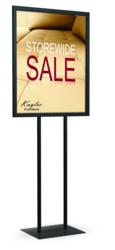 Glendale, CA (PRWEB) December 19, 2012
Digital Pre Press Services, Inc. announced the release of a new product on their website. As of today, customers can purchase the LF228 model poster sign holder directly from the site.
The LF228 Poster Stand is a classically designed advertising option. The aluminum poster stand construction is coated with an appealing black or silver satin finish which showcases the poster sign by framing it in with a professional looking touch. Poster signs can easily be inserted at the top and the double pole and rectangular base make this poster stand very stable and highly durable. Another benefit of the poster sign display is the option to place dual images – one on the front and one on the back – for maximum advertising exposure of a product or sale. The lightweight construction and easily assemble makes this poster stand highly portable.
When purchasing the new LF228 poster stand from DPSBanners.com, customers will enjoy free shipping due to the current promotion for free shipping over $149. While on the site, customers can also view the other sales and promotions currently underway such as the 15% off custom banner printing or the drastically reduced Boost Banner Stand.
Digital Pre Press Services, Inc. offers a large variety of banner stands, poster stands and other high quality advertising and marketing products to fit any companies allotted budget.
For more information regarding DPS products or services, including the LF228 poster stand, please visit http://www.dpsbanners.com . Visit the company Facebook page and click "Like" for great offers and for the latest information, follow DPS on Twitter.
About Digital Pre-Press Services, Inc.:
Founded in 1996, Digital Pre-Press Services, Inc. is visible online at DPSBanners.com and on location in Glendale, California. The company provides simple, affordable and professionally designed banners that can be personalized and customized exclusively online. Through the site, DPS has a wide array of products including banner stands, window clings, car magnets, retractable banner stands, sidewalk signs, pre-designed banners and more.
Contact:
Digital Pre-Press Services, Inc.
Toll Free (888) 790-2665
Local (818) 240-2004
Fax (818) 240-3456
###