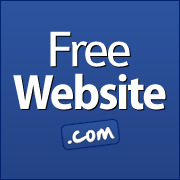 New York, NY (PRWEB) December 19, 2012
FreeWebsite.com recently published an article detailing how business owners and individuals can create a website for free. The article also talks about how having a website can make all the difference to a business.
"This is the era of the Internet. Most consumers are surfing the Web to find out about products and services. Having a website is quintessential for a business to be in the right place at the right time," said a FreeWeb.com representative. "Business owners can now create a website for free and take advantage of the professional templates, layouts and themes that the reputed website provider has to offer."
FreeWebsite.com offers a variety of packages to choose from. The basic package is free, and businesses can choose to upgrade if they so desire. By using the tools and resources provided by the website provider, business owners can create a website for free in a matter of minutes. Instant visibility, effortless marketing, easy integration into social media sites and professionally designed templates are some of the benefits of owning a professional website.
To read the article, visit: http://www.freewebsite.com/create-a-website-for-free/
About FreeWebsite.com: FreeWebsite.com breaks down barriers to website ownership by providing attractive, easy to maintain websites, complete with content, at a low price.