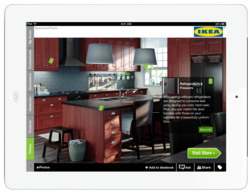 To have 4 million people using Houzz from a mobile device each month means we are at an historical turning point for an industry previously underserved by web technologies
PALO ALTO, CA (PRWEB) December 19, 2012
Houzz, the world's leading platform for home remodeling and design, today announced a record 40% of its users are remodeling their homes from a mobile device. The growth of Houzz's mobile usage aligns with several other company milestones, including 5 million app downloads – a 400% increase in the last year – and 10 million monthly unique users. Houzz also announced the availability of an Android app, as well as new features for its 5-star rated iPad/iPhone app, through which users viewed 500 million projects with retina-quality images in November.
"At Houzz we are using technology to put everything you need for renovating a home at your fingertips," said Alon Cohen, President and co-founder of Houzz. "We succeed when we give people the tools they need wherever and whenever they want them. To have 4 million people using Houzz from a mobile device each month to find remodeling inspiration, research the best professionals, and discover innovative products means we are at an historical turning point for an industry previously underserved by web technologies."
Mobile Use
Houzz mobile activity highlights:

Houzz users spend over 160 man years in mobile Houzz usage every month
Activity by platform is dominated by iPads at 65%. Android users make up 18% of the mix.
9PM is the peak time of day for Houzz mobile usage
Houzz technology serves 300 Terabytes of image data – more than what is archived at the Library of Congress – to support 500 million monthly views of projects with retina quality photos
The App
The Houzz app is the #1 home design app on the iPad and is the highest rated app in the iTunes store's lifestyle category, with more than 64,000 reviews averaging 5-stars. The new features include the addition of Discussions to the app, where mobile users can post their design dilemmas and get help from the community, and the ability to add photos to an ideabook or discussions directly from the camera or camera roll. Houzz is also adding localized searches for home improvement professionals – a feature that will be released in the next version of the app expected to be available at the end of the month.
Houzz is also releasing an Android app to better support Android users who have become a significant percentage of mobile Houzz users.
Houzz mobile users include both consumers and home professionals who use the app as a key communication and collaboration tool at home, in showrooms and on the job site.
Professionals:

Jerry Bussanmas, a custom home builder in Des Moines Iowa, keeps an iPad in his truck, taking the Houzz app to all of his client meetings, as well as to the job site, where he uses the app to walk sub-contractors visually through key details.
Landscaper Jason Lee in Los Angeles, CA says using the Houzz app on his iPad and iPhone saves him more time than he could have imagined. If he's waiting for a meeting, between clients, or is on the road, he can work on creating ideabooks for his clients and get things done.
Consumer Reviews on iTunes:

"We are starting the process of building a home, and the app has been invaluable, from communicating what we want to our architect, to picking colors and finishes with the designer! I am sure we will use this tool through the completion of our project."
"Now I can show my contractor exactly what I want by opening Houzz on my iPad, even while we're standing in the Tile store."
Groundbreaking Mobile Ads
Houzz's mobile innovation also extends to advertising. The company's mobile brand ad units are contextually integrated into the browsing experience, providing the same high-quality beautiful images and product information through the interactive green tags that users love. As a result, users find the ads helpful rather than intrusive, and spend extensive time engaging with their content.
View and download the full infographic here.
About Houzz
Houzz (http://www.houzz.com) is a leading online platform for home remodeling, providing inspiration, information, advice and support for homeowners and home improvement professionals through its website and mobile applications. Houzz features the largest residential design database in the world, articles written by design experts, product recommendations, a vibrant community powered by social tools, and information on more than 1.3 million remodeling and design professionals worldwide who can help turn ideas into reality. @houzz_inc