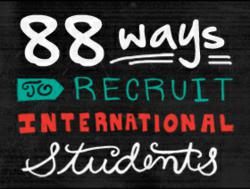 Cultural differences and changing barriers to technology can keep outreach efforts from reaching your target audience
Cleveland, OH (PRWEB) December 19, 2012
As colleges and universities look to increase their international student enrollment and differentiate among global student audiences, specialized educational marketing companies like International Education Advantage (Intead, LLC) focus on providing value-added recruitment and orientation solutions that bring marketing to international students within arms' reach.
Today's launch of the e-book compendium 88 Ways to Recruit International Students is one of a lineup of research-based, specialized digital content published by Intead. It is also one of many examples of the high-quality services Intead provides to academic institutions that help them address global marketing challenges.
The interactive e-book is available on the Intead website here and explores topics like:
● Social media marketing for international student recruitment
● Google analytics for student recruitment in China among other areas
● Strategies for institutions entering into international markets or cultivating a presence in additional regions
● Cultural and educational factors affecting marketing in international regions
● Different types of multi-language, culturally relevant marketing tools
● Messages universities should use to attract international students
● Acquiring and addressing global prospect lists
● Converting international students into brand ambassadors
● Relationship building with regional international high schools and US based immigrant communities
● US government support for global student outreach
"Global recruiting efforts can be complicated. This e-book outlines some general guidelines for strong international student recruitment and also explains Intead's systemic digital approach to global educational marketing," says Michael Waxman-Lenz, Intead Co-Founder and CEO. "We feel our partners benefit from the many areas of expertise and multi-cultural backgrounds our associates have. We've seen university partners increase their early enrollment by 50% and increased yield by double digit percentages - so we're happy to continue to offer these value-added solutions to our partners and colleagues."
Intead offers strategy consulting, technology solutions, international marketing expertise, and global education research to clients. Service and product offerings include brand development, domestic and international and domestic recruitment and enrollment strategy, online and traditional media academic marketing, iPad application development, international social media management, digital platform development and analytics, and international market research.
"Cultural differences and changing barriers to technology can keep outreach efforts from reaching your target audience," says Lisa Cynamon Mayers, Academic Advisor for Intead. "As we enter new international markets, we learn what works best, which ultimately allows more international students to land in the academic programs that best meet their needs. It's the most important goal we share with our partners."
For more information about the book or to learn how to obtain a digital audit for your academic institution, visit http://www.intead.com.
Press/Media Contact: Michael Waxman-Lenz Intead CEO/Co-Founder at info(at)intead(dot)com or (717)746-8323.
About Intead
Intead International Education Advantage, LLC is a full-service consulting, strategy and digital international education solutions marketing company with offices in Cleveland, Boston, and China. Intead crafts and deploys global digital solutions via specialized marketing tools to attract, recruit, orient and retain international and U.S. students. The company partners with experienced professionals around the world to deliver research-based insight, customized programs and best-in-class digital solutions to education clients that drive international student enrollment. Intead's approach enhances the communication, branding and marketing of academic institutions in a culturally appropriate and accessible digital platform- supporting customers and products with sophisticated analytics services, ultimately improving results and decreasing costs.