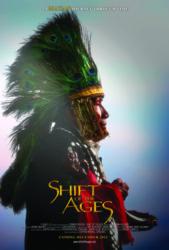 "The shift isn't a day in the calendar of life... it's a journey we're all sharing on the path of awakening." -- Shift of the Ages
Los Angeles, CA (PRWEB) December 19, 2012
In his first official discourse to the world, leader of the Mayan people, Grand Elder Alejandro Cirilo Perez Oxlaj, a.k.a. "Wandering Wolf," reveals the truth about Mayan prophecy in the new documentary, "Shift of the Ages: A Mayan Journey Through Time." Commissioned on behalf of the Mayan nation, independently produced "Shift of the Ages" premieres worldwide just in time to dispel misconceptions about 2012 and bring to light the true messages the Mayan people predicted about this time period, a transition they call "the new Sun." The film will be distributed to more than 250,000 people worldwide through the Shift Network on FANetwork.tv, and can be streamed free until midnight on December 31, 2012 at http://www.ShiftoftheAges.com. Afterward, there will be a charge of $4.99 per viewer. Private screenings are available and encouraged.
Commonly known and accepted as superb mathematicians and astronomers who devised one of the most accurate calendars known to man, The Maya speak of a year "zero," which was thought by some scholars to be 2012. "Shift of the Ages" follows the rise of Wandering Wolf, a born spiritual leader destined to unite humanity and carry out Mayan prophecy. Through story, he teaches how this "zero" time period is what the Maya refer to as the "change of the suns," and clarifies it as a transition process, not a singular day. Wandering Wolf travels the world, meeting with spiritual and indigenous leaders, with an urgent message about the role human consciousness plays in making this transition.
Set against the backdrop of the end of the Mayan Long Count calendar, "Shift of the Ages" is a tightly woven tapestry of human drama and cultural history that takes you on an adventure into the heart of the Maya, their ancient spiritual traditions and sophisticated culture. The film beautifully illustrates the power of the human spirit.
In his directorial debut, filmmaker Steve Copeland surrounded himself with industry veterans such as producer Myles Connolly, whose 25-year career has seen numerous film awards in the documentary category; Director of Photography Cris Borgnine, an award-winning Cinematographer born and raised in Hollywood as the son of Academy-Award winning actor Ernest Borgnine; Original Score by Academy-Award nominee Herwig Maurer whose sound work has been praised in blockbusters like Apocalypto, Zen & Zero, Passion of the Christ, Hostel and King of the Hill; and Narrator Q'orianka Kilcher, an actress best known for her portrayal of Pocahontas as well as her role as a human rights activist. Joseph Giove, founder and director of the non-profit Common Passion, serves as Executive Producer and co-writer, a role in which his background in consciousness-related research served the project well. "In the spirit of Mayan tradition, we are releasing the film online in a donation-only model that will further support Wandering Wolf in his mission," says Giove.
Common Passion is the exclusive launch distributor of the film. Half of all donations will benefit non-profit charities supporting the indigenous in Guatemala as well as in other countries in South, Central and North America. This includes Common Passion itself, as well as other qualified non-profit charities supporting indigenous peoples throughout the Americas. Common Passion will continue to lead the "Shift of the Ages" movement that is spreading Wandering Wolf's message of protecting the Earth, and fostering peace and non-violence in communities around the world.
"Wandering Wolf does much more than dispel all the 'doomsday' material out there," says director Steve Copeland. "He shares sacred Mayan prophecy about the world far beyond 2012 and specific messages about the importance of healing humanity. Translating a unique and profound culture into mainstream entertainment has not been an easy journey. There are so many layers to this story that even I, having seen the film a thousand times, receive a renewed personal healing and hopeful feeling about our future on Earth with each viewing. I hope people watch it, enjoy it, are inspired by it, and share it with their friends. In the words of Wandering Wolf: One human family, one home."
Media contact: Carina Sammartino, carina(at)parallel33pr(dot)com, (415) 275-2074.