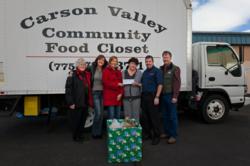 As members of the community, we have a responsibility to help our neighbors in need.
Sutter Creek, CA (PRWEB) December 23, 2012
The 30-day food drive held annually by EMCO High Voltage Corporation has added 98 pounds of food and a five-hundred dollar check to the Carson Valley Community Food Closet.
"Unfortunately, hunger is an everyday challenge for many Americans. The current economic climate has made it difficult for people to feed their families. As members of the community, we have a responsibility to help our neighbors in need," said Mike Doherty, President and CEO at EMCO.
According to the USDA, one out of six Americans faced hunger in 2011. That is nearly 49 million people – over 33 million adults and 16 million children – living in food insecure households. Many of these people are formerly middle class, working adults who have lost their jobs or are underemployed.
As the number of hungry Americans remains at record levels, the demand placed on food banks can be overwhelming.
"We are really lucky. Our community is very good to us," said Tina Tubridy, managing director at Carson Valley Community Food Closet. "In a rural area where the unemployment rate is especially high, every little bit makes a difference. More and more families are relying on us for a longer period of time."
Carson Valley Community Food Closet is a non-profit organization that relies solely on the generosity of the community. Based in Gardnerville, Nevada, the Food Closet provides meals to 50 families per day.
The final donations of food were delivered to the Carson Valley Community Food Closet December 1 where the final amount was calculated in preparation for today's announcement.
"Supporting EMCO's annual food drive is just one small way to make a concentrated effort at giving during the holiday season. It is an honor for EMCO and all our employees to make a difference in our communities," explains Kelly Gronau, Senior Sales Engineer.
Questions regarding EMCO's annual holiday food drive should be directed to Kim Bailey at kimbailey [at] emcohv [dot] com.
About EMCO High Voltage Corporation
For over four decades, EMCO has been designing and manufacturing high voltage power supply products that continually set industry standards for size, performance, and reliability. EMCO has received numerous awards, including the Key Partner Award from the University of Wisconsin for project ICECUBE, Most Innovative New Product of the Year in the Field of Electrical Engineering from the University of California at Davis, and Product of the Year from Electronic Products Magazine. Products are available from stock in California, Nevada, and EMCO's stocking distributor in Europe, Condatas AG (http://www.condatas.com).
Product datasheets, application notes, white papers, and additional materials are available at http://www.emcohighvoltage.com. Contact EMCO High Voltage Corporation at 1-800-546-3680 or sales [at] emcohv [dot] com for more information.