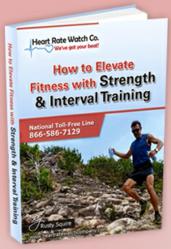 we think you will find our approach very educational and refreshing in a world that tries to commoditize complex topics
Bozeman, MT (PRWEB) December 28, 2012
World record holder Rusty Squire has released his "5 Best Weight Loss Tips for 2013" at the Heart Rate Watch Company blog.
"These tips are specifically designed to help people achieve the greatest results fastest", says Squire. He adds, "This is not just some short list, it also includes two free books that will give people all the skills and knowledge they will need to succeed".
TWO FREE FITNESS AND WEIGHT LOSS BOOKS
The Heart Rate Watch Company is offering two free fitness and diet books entitled "How To Successfully Use A Heart Rate Monitor" and "How To Elevate Fitness With Strength and Interval Training". "The first book on using a heart rate monitor contains a lot of dietary information to go with the fitness advice on fat burning and weight loss", says Squire. "This book has helped many customers achieve their weight loss goals and we are very confident this time-honored information can help you too".
IT IS NOT ABOUT INSANITY, RATHER CONSISTENCY
""No pain, no gain" is absolutely the wrong way to begin a new training program, especially as we get older or for those who have been sedentary for long periods of time", says Squire. He adds, "The new found fascination for immediate results is not the way to begin an exercise program but rather to start with something you can stick with and perform regularly until your foundation improves".
"While most other companies try to sell you a heart rate monitor with no advice on usage, we are bringing all the advice to bear to help create success and carefully matching the right product to your individual needs", says Squire.
To read a free copy of the "5 Best Weight Loss Tips", simply visit the Heart Rate Watch Company blog. To receive your two free fitness books simply visit the Free Fitness Books page at the Heart Rate Watch Company website.
"Read our articles and books to decide for yourself", says Squire. He adds, "There is no obligation to buy anything but we think you will find our approach very educational and refreshing in a world that tries to commoditize complex topics".