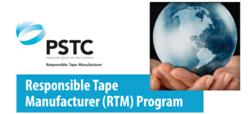 Riverhead, NY (PRWEB) December 31, 2012
Adchem Corporation, a major supplier of adhesive tapes for the automotive and industrial markets, announced its certification under the newly established Responsible Tape Manufacturer (RTM) program of the Pressure Sensitive Tape Council (PSTC).
PSTC unveiled the RTM program early in 2012 as a "level the playing field" initiative creating a performance standard program that encompasses US Government regulations and industry quality standards. RTM requirements include quality control standards set forth in ISO, ASTM and PSTC quality testing standards as well as environmental, workplace policies and practices.
The RTM program's goal is to acknowledge and raise the visibility of companies that invest in being responsible. It highlights companies that see good manufacturing practices as an integral part of the value they bring to their customers.
For more information about RTM and the Pressure Sensitive Tape Council go to http://www.pstc.org/RTM.
About Adchem Corporation
Adchem is ISO 9001 2008 certified and manufactures pressure-sensitive adhesive tape systems, including double-sided films, tissues, foams and fabrics; as well as, transfer tapes; one-side coated products and other custom coated specialty products. The company offers over 200 100% solids adhesive tapes including solvent and water based acrylics and rubber adhesives used in a variety of industries, including automotive, construction, electronics, graphic arts, medical, sound and vibration damping, transportation and general industrial tape applications. Adchem has been engineering and manufacturing adhesive tapes since 1965.
For additional information please contact Joseph Pufahl at Adchem Corporation, 1852 Old Country Road, Riverhead, NY 11901 Phone: (631) 727-6000 Fax: (631) 727-6010 or our website at http://www.adchem.com.