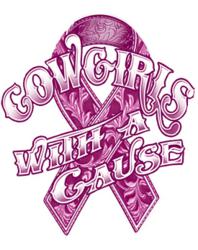 "As the primary event sponsor, Carolina Farm Credit plays a pivotal role in the success of the Cowgirls With A Cause Rodeo," said Lindsey Merrill, CFC employee and event coordinator.
Statesville, NC (PRWEB) December 29, 2012
Carolina Farm Credit and its employees recently donated over $5,100 to Cowgirls With a Cause (CWAC). Carolina Farm Credit service centers donated $3,600 to the non-profit organization and its employees raised $1,525 through their Jeans for a Cure fundraiser.
Cowgirls With a Cause is a non-profit organization hosting an annual women's only rodeo whose mission is to make funds available to provide mammograms and other cancer detection & treatment services to those who could not otherwise afford them.
Carolina Farm Credit has been the primary event sponsor for the CWAC rodeo since it began in 2004. The event consists of approximately 400 competitors from six to nine states each year. The 2012 event was held on Dec. 1-2 at the Lone Hickory Arena in Yadkinville, NC.
Proceeds from the CWAC rodeo are donated to the Debby Burgess Memorial Fund at Forsyth Medical Center in Winston-Salem, NC. Burgess, a former Carolina Farm Credit employee, participated in numerous rodeo events throughout her career and died of breast cancer in 2003. Donations to the fund total over $177,000 since 2004 and have paid for over 900 screening mammograms and over 80 follow-up diagnostic procedures for over 900 individual patients.
Carolina Farm Credit serves over 8,800 members with loans outstanding totaling more than $1.3 billion. The association's territory covers the western half of North Carolina, with service centers located in Albemarle, Asheboro, Asheville, Boone, Burnsville, Carthage, Concord, Ellerbe, Graham, Hendersonville, Hillsborough, Jefferson, Lenoir, Lexington, Lincolnton, Marshall, Mocksville, Monroe, Murphy, Newton, Pilot Mountain, Reidsville, Roxboro, Rural Hall, Salisbury, Shelby, Siler City, Sparta, Spindale, Statesville, Taylorsville, Wadesboro, Waynesville, Wilkesboro, Yadkinville, and Yanceyville.
Directors for Carolina Farm Credit are Joseph A. Lail, Chairman, Shelby; Mark A. Bray, Vice-Chairman, Lawsonville; John M. Barnard, Statesville; E. Bernard Beck, Seagrove; W. Rex Bell, Statesville; David M. Coltrane, Pleasant Garden; W. Steve Love, Graham; Bobby J. "Bud" Matthews, East Bend; Clark M. Newlin, Haw River; Thomas E. Porter, Jr., Concord; Tony L. Ragan, Sanford; D. Kaleb Rathbone, Waynesville; Lewis E. Smith, Lincolnton; Vickie N. Smitherman, East Bend; L. Kim Starnes, Salisbury; Dr. Alton Thompson, Summerfield.