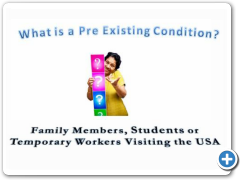 Pre existing condition coverage is advised for any visitor above age 50 traveling to the United States. India Network meets that requirement with its plans.
Orlando, FL (PRWEB) December 28, 2012
India Network Foundation, sponsor of Accident and Sickness Insurance programs for visitors to the United States, announced today its latest video in a series of training videos to educate family members, temporary workers and students about pre existing condition key issues when selecting visitor health insurance.
The video addresses emergencies such as a stroke or heart attack and why pre-existing condition coverage is essential for seniors staying extended time periods in the US. The training video explains how pre-existing condition coverage is defined by health insurance administrators including typical exclusions such as diabetes, high blood pressure, cardiovascular issues and other pre existing conditions.
India Network was the first administrator offering pre-existing plans and continues to lead the industry with the maximum amount of coverage and minimal exclusions. India Network recently introduced enhanced pre existing coverage plans which treat the policy holder in the same manner as a new sickness or accident with the difference that the insured pays a separate deductible.
Dr. KV Rao commented, "With our recently enhanced pre existing coverage for visitors to the United States, we felt it important to explain that plans are available that offer the same in-patient and out-patient benefits like any other new sickness. We want the community to understand that healthy parents have known and unknown medical problems and the insured should know what to expect if a medical emergency exists. Only India Network pre-existing condition plans assure coverage during any medical emergency, whether it is due to pre-existing problem or new problems. The video helps better communicate pre existing coverage terminology and set expectations."
A number of visitor medical insurance plans try to offer some kind of restricted and narrowly defined pre-existing condition coverage. India Network has received multiple reports of unpaid claims under one pretext or another. In each case, the denial of claim was based on the definition of pre-existing. The video offers concise explanations to help the viewer understand pre-existing coverage choices including a brief highlight of the recently introduced Instant Quote from India Network Health Insurance.
The India Network Accident and Sickness Insurance program offers scheduled benefit and network based plans with an option to purchase pre-existing conditions for all age groups. The pre existing condition coverage option is available for network based (80/20) plan and for $100,000 and $150,000 scheduled benefit programs. The pre existing option for each plan type requires a minimum duration of 90 days and a maximum of 364 days.
About India Network Foundation
India Network Foundation, established as a US non-profit organization, has been helping the Asian Indian community in North America with programs and grants to academics from India for more than two decades. India Network Foundation sponsors visitor health insurance to tourists, students, temporary workers (H1 visa holders) and their families. All insurance products are administered by India Network Services.
For more information visit http://www.indianetwork.org
About India Network Health Insurance
India Network Services, is a US based company that administers visitor health insurance to transition residents, tourists, students, temporary workers and their families. Visitor medical plans are offered for all age groups with both fixed coverage, comprehensive coverage and with pre-existing condition coverage.