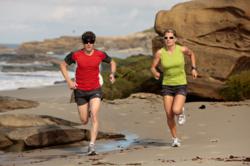 People see too much hype nowadays about "get fit quick" strategies which seldom work
Bozeman, MT (PRWEB) December 30, 2012
This list of the 5 best fitness tips for 2013 New Year's Resolutions was compiled by World Record Holder Rusty Squire exclusively for the Heart Rate Watch Company.
"People see too much hype nowadays about "get fit quick" strategies which seldom work and, especially for older people, or those who have been sedentary for a long time, the insanity approach is all wrong", says Squire. He adds, "Basic walking starting with managed heart rate that is sustainable, at a conversational pace, is the way to begin because consistency wins the race".
5 TIPS FOR FITNESS RESOLUTIONS 2013:
Tip #1 - Make It Fun and Sustainable - Pick a desired activity such as walking, cycling, running, or skiing and then just consistently commit to one hour per day. The consistency elevates the body's metabolism and will burn more calories around the clock, not just during exercise.
Tip #2 - Exercise At A Conversational Pace - The bottom line is to keep the heart rate below 80% of its maximum while developing an aerobic foundation and to build upon its capacity. This takes several months time and means no ego workouts. The no pain, no gain philosophy goes out the window.
Tip #3 - Hydrate Like Water Was The Workout - Drink early and often, long before becoming thirsty and drink all day long. The body is made up of over 60% water.
Tip #4 - Workout With A Partner - The socialization makes the commitment easier, more fun, and helps with staying committed for the long haul. This is why the Lone Ranger had Tonto.
Tip #5 - Get A Heart Rate Monitor - One can't know if they are working out at the proper intensity if there is no tachometer on the engine which is the heart. A heart rate monitor provides the feedback to optimize efficiency. A heart rate monitor or GPS watch can provide more motivation and make exercise more fun.
TWO FREE FITNESS BOOKS
For a limited time only, get two free fitness books, "How to Successfully Use a Heart Rate Monitor" and "How To Elevate Fitness With Strength and Interval Training". Both books were written by Squire and are packed with tips on how to correctly approach exercise, base building, diet and a host of other tips.