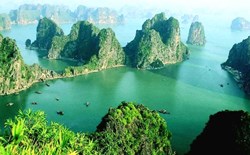 There are a series of tour packages that are optional. Thus, tourists can get access to the website to choose their suitable packages
(PRWEB) December 31, 2012
If tourists want to visit Vietnam, Ha Long is one of the most interesting destinations for them. Especially, when tourists Book Tours with Vietsmile Travel, they will get the great opportunity to have attractive tours. Indeed, the company is launching big offers for customers. On the occasion of Tet holiday, Vietsmile Travel is also making the effort to enhance its service quality and attract more customers. Ha Long Travel is the main focus of Vietsmile Travel at this time. Tourists booking tours to Ha Long will get many special offers.
Ha Long Bay, which could be translated as "descending dragon", is considered as one of the most popular tourist attractions in Vietnam. Located in Quang Ninh province, Ha Long is 170 km from Ha Noi, the capital of Vietnam. Most of visitors will never miss a chance to reach Ha Long Bay once visiting Hanoi.
Naturally, Ha Long Bay owns mild beaches, exciting limestone mountains, spectacular islets, and mysterious caves. On discovering the islands here, tourists can explore a plenty of beautiful caves that couldn't be artificially made. Besides, tourists also have the chance to see amazing sceneries that Mother Nature has created on earth. From the altitude, Ha Long Bay looks like a geographic art work. It is said that visitors will seemingly be in a legendary world of stone islands when visiting this place. Also, Man's Head Island, which resembles a man standing and looking towards the mainland, has been renowned for ages. While Dragon Island looks like a dragon hovering above the turquoise water, La Vong Island resembles an old man fishing. Moreover, Ha Long also possesses the islands of the Sail and the Incense Burner, which all astonishingly resemble their names. Especially, the islands will be transformed when tourists see them in different angles of the light. In the center of the islands are awesome untouched caves such as Thien Cung (Heavenly Residence Grotto), Sung Sot (Surprise Grotto), Dau Go (Driftwood Grotto), and Tam Cung (Three Palace Grotto). Among them, Thien Cung looks as splendid as the engraved crystal. Therefore, visitors will feel like they are standing in front of a lively and magic stony curtain. Tourists can use kayak to see the whole great view of the place. It is also remarkable that Dau Go Cave, Poem Mountain, and Sentinel Chau Island are the best masterpieces of nature. Two of the most well-known holy sites in Vietnam are also located here, namely Yen Tu Pagoda and Cua Ong Temple. For tourists who are interested in discovering sea and island, Co To Island must be an ideal destination. In fact, it has been famous all over the Southeast Asia for enchanting settings, wonderful coral reefs, and scuba diving activities. On Tuan Chau Island, tourists can enjoy Vietnamese foods at the Food Garden, join in the traditional dancing and singing activities, and see puppet performances.
Recognized as one of the World's Natural Heritage site by UNESCO, Ha Long Bay is luring more domestic and international tourists. Ha Long gives tourists the most grandeur landscape that the nature can do; therefore, it is really worth visiting.
To reach such a great destination is not difficult any longer. With the big offers from Vietsmile Travel, tourists will have an unforgettable Tour in Ha Long. Vietsmile Travel ensures to provide tourists with the high quality service at good prices. There are a series of tour packages that are optional. Thus, tourists can get access to the website to choose their suitable packages.