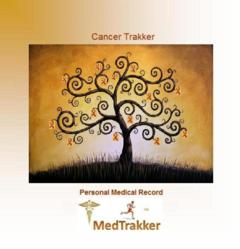 I wanted to make sure no one felt as powerless as I did when it came to caring for their loved one, which is why I created Cancer Trakker.
(PRWEB) December 31, 2012
As we all know, anyone can develop Cancer and the risk increases with age… contrary to what most of us believe; only about 5% of cancers are hereditary. Accurate medical records are only as good as the record keeper. It's frightening to think about how easily a patient can be harmed by missing information in their medical records and in some cases the misinformation can cause untimely death, especially when dealing with drug interactions and allegies to medication. It's absolutely necessary to have complete personal medical records. Cancer Trakker has all this in mind. There are so many healthcare providers when dealing with a chronic illness, and not all doctors have their records linked together. Why not put it all in one place and be sure nothings missing MedTrakker has each patient's well being in mind.
With Cancer Trakker vital patient information can be recorded as well as insurance information, lists of medications and allergies, treatment schedules and appointments, surgical histories, comments from physicians, vaccine records, chemotherapy regimen, medical devices used, and so much more. The best part is, Cancer Trakker is portable and can be taken anywhere. No more worrying about going on vacation or visting family in another state or country, all health information can be kept close by.
Having accurate personal medical records readily available is extremely important, especially when receiving treatment from many healthcare providers. "I was absolutely beside myself finding out my husband had cancer in the first place and then once he got sick, I was pretty much responsible for his well being… I had to know what procedures had been done, what I could do to help him and what important questions to ask his doctors… which is what compelled me to create Cancer Trakker… I wanted to make sure no one felt as powerless as I did when it came to caring for their loved one" said Author Amber Bowden.
There are so many helpful sections in Cancer Trakker… Use the daily medication planner to make sure medications are dispensed properly; use the monthly calendars to mark appointments and treatments. Use the blood count reference section to help manage and record blood counts and understand what a healthy blood count is. There are helpful definitions for tons of medical terms used while receiving care that can be used for reference. Use Cancer Trakkers reference section to find information about side effects, how to notice signs of infection, how to help manage pain and when to contact a health care professional. Use the Nutritional section to find food dos and don'ts and discover the benefits of different types of foods. There are helpful sample menus and some healthy recipes to create the best diet possible.
Cancer Trakker was designed primarily to keep track of personal medical records but also takes into consideration a patient's life matters, such as information about lawyers, family physicians, social workers, locations of bank accounts, safe deposit boxes, insurance policies, car titles, birth and death certificates, divorce papers, last will and testament, power of attorney, will executor and all important and emergency contacts. All this information can be vital and sometimes the only person who knows this information is the cancer patient. Having to track all this down can be extremely hard and sometimes just simply cannot be done depending on a loved one's condition. This personal medical record keeper makes it easy to compile all information down ahead of time and keep it all in one place. Simply put… Cancer Trakker is the best system for personal record keeping on the market.
You can find Cancer Medical Organizer exclusively online at http://www.medtrakker.com/. Author Amber Bowden is available for speaking events, book signings and expert quotes and can be reached at Linkedin and on Twitter to answer further questions regarding the whole family of MedTrakker Personal Medical Record Organizers.