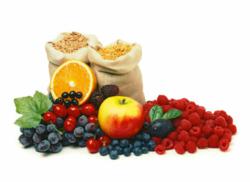 Las Vegas, Nevada (PRWEB) February 24, 2012
For the past few years, the entertainment world and the Hollywood Jet-Set have gobbled up the Superfood craze faster than their publicist can tweet. Victoria Secret's Angel Miranda Kerr loves her acai berries, quinoa and almond milk. Gwyneth Paltrow is a student of the powers of agave. No matter what the superfood is, there is a celeb who is convinced of the amazing powers these foods provide. Recently, health and wellness online portal BeWellBuzz.com discussed the top sixteen Superfoods which surprisingly very few people are talking about.
Superfoods are nutrient-rich foods that offer people many health benefits at the same time and provide them more nutrition with lesser amount of food consumed. Looking at the standard lunch or dinner, it is very hard pressed to find even a single Superfood. Instead it's probably chockfull of cholesterol laden junk food that can expand the waistline and damage the heart and arteries irrevocably.
Superfoods are actually easily available and it's only in recent times that they've been identified as Superfoods with near super powers. Also, since everyone is now into organic food, it's become easier to find these foods in most places where people wouldn't have found them even a few years ago. Obviously, the best reasons to consume Superfood's are for the amazing health benefits that they offer. These foods are rich in nutrients and work wonders in keeping the human mind and body healthy.
Eating these foods regularly makes a body healthier, helps flush out toxins more frequently and leaves people with a healthy glow. It also helps maintain weight and allows people to remain healthy without having to take annoying vitamins or mineral tablets. Superfoods in fact contain all the right nutrients in the right proportions.
Typically Superfoods contain antioxidants, minerals, vitamins, amino acids, essential fatty acids, polysaccharides, enzymes and glyconutrients to name a few. However, the best part is that these foods are clean and pesticide free, organic sources of these nutrients, so in effect they act faster and work better.
To learn more about the newest 16 superfoods that power celebrities from Jennifer Aniston to Gwyneth Paltrow, Click the link below:
http://www.bewellbuzz.com/superfoods/16-superfoods-you-should-know-about-part-1
About BeWellBuzz.com
Bewellbuzz.com is a wellness website which aims to provide all-inclusive information, findings, and factoids on health sciences, nutrition, and holistic living. Its archives and articles mainly focus on diets, lifestyle, natural remedies, and other factors that promote general well-being. Follow the latest and newest health and wellness articles and other daily input on Facebook @ https://www.facebook.com/bewellbuzz
###