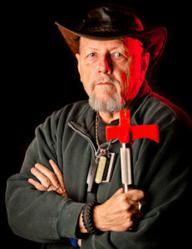 Enjoy the Best in Life ... but Be Prepared for the Worst.
Aurora, CO (PRWEB) March 24, 2012
National Geographic takes viewers inside the world of Jack Jobe, a "Common Sense Survival Teacher." Jack, founder of SecretstoSurviving2012.com and inventor of the "Walk About Prepared" rescue tool, demonstrates how he has inexpensively fortified his home against intruders and planned for a long-term crisis. As a comedian, Jack will also give a taste of how he uses humor to educate people on survival skills.
Solar flares are one of the natural disasters that concern both "preppers" and scientists. Jack explains how a Coronal Mass Ejection (CME) can pose a more serious threat than the public realizes. NASA forecasts serious solar flares through 2013, with potential to disrupt the electrical grid, GPS systems and communication satellites. In 1989, 6 million homes in Quebec experienced a blackout caused by a solar flare. On "Doomsday Preppers," (S1E9) Jack explains why and how we need to prepare for this sort of disruption to our lives.
A recent Wired.com headline proclaimed a "1 in 8 Chance of Catastrophic Solar Megastorm by 2020." The article observes, "The last gigantic solar storm, known as the Carrington Event, occurred more than 150 years ago and was the most powerful such event in recorded history. That a rival to this event could happen in the next 10 years (as we approach solar maximum) was surprising to space physicist Pete Riley, senior scientist at Predictive Science in San Diego, California, when he published his estimate in Space Weather on Feb. 23.
How serious might a Coronal Mass Ejection be?
"'If the solar storm of 1921 [the largest actually measured], which has been termed a one-in-100-year event, were to occur today, well over 300 extra-high-voltage transformers could be damaged or destroyed, thereby interrupting power to 130 million people for a period of years,' Joseph McClelland, director of the Office of Electric Reliability at the Federal Energy Regulatory Commission, said at a May 31 House Energy subcommittee hearing on the issue," as reported by The New York Times on June 9, 2011 in "This Week's Solar Flare Illuminates the Grid's Vulnerability."
"Doomsday Preppers" premiered on Tuesday, February 7, on National Geographic Channel, setting a new ratings record for the 11 year old network as nearly 4.3 million viewers tuned in. This is yet another sign of the growing public interest in and popularity of survival-oriented shows.
As the survival expert behind SecretstoSurviving2012.com, Jack is at the forefront of the movement to bring common sense survival skills to mainstream America. Jack generously shares his expertise with the public through his free weekly survival tips newsletter at SecretstoSurviving2012.com/news.