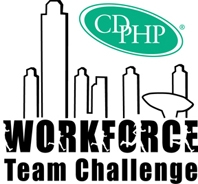 Albany, NY (PRWEB) March 23, 2012
Lace up those sneakers and start training with your colleagues for the CDPHP® Workforce Team Challenge, which will be held on Thursday, May 17, 2012 at 6:25 p.m., starting from the Empire State Plaza in Albany. This year the race is going green with the debut of an online team packet and registration system (located at http://www.cdphpwtc.com) for participating teams, announced today by the Hudson-Mohawk Road Runners Club (HMRRC) of Albany and Capital District Physicians' Health Plan, Inc. (CDPHP®), lead sponsor of the race. Last year's record-breaking event attracted more than 9,200 registered runners/walkers representing 470 organizations.
Another innovative feature this year is the availability of the CDPHP Workforce Team Challenge race course and event listing on the CDPHP® InMotion(SM) fitness tracker website and mobile application. This free tool (located at http://inmotion.cdphp.com/) allows anyone to effortlessly upload and save workout routines, training, and nutritional information, create and map exercise routes, and share that information with friends from the convenience of their smartphone or computer.
"CDPHP is pleased to continue our partnership with the HMRRC and serve as the lead sponsor of the 2012 CDPHP Workforce Team Challenge," said John D. Bennett, MD, president and CEO, CDPHP. "We hope businesses and organizations, large and small, will continue to encourage their employees to form teams and enjoy the health benefits and camaraderie of training and participating in this exciting event, as a runner or walker."
In addition to being more environmentally friendly, this year's CDPHP Workforce Team Challenge event will allow team captains the convenience of entering team data, paying fees, and obtaining race information, all online. The new electronic format will allow team captains to:

View important information and updates,
Record and edit team rosters,
Pay registration fees and make online donations to the race's charity of choice,
Access official race rules and runner release forms, and
View and print promotional posters for their workplace.
"We are excited to have CDPHP continue as our title sponsor for the Workforce Team Challenge," noted Mike Rabideau, race director. "The race promotes good health and fitness through training for and participating in the event, either by running or walking with your colleagues. CDPHP is committed to supporting active lifestyles and the health of our community, making this the ideal partnership for this event."
The CDPHP Workforce Team Challenge is a 3.5-mile road race open to teams of employees from corporations, businesses, government agencies, educational institutions, not-for-profit corporations, and financial institutions. Runners, joggers, and walkers are invited to compete, and all participants receive a complimentary T-shirt and light refreshments following the race. Many employers use the event as a platform for providing health and fitness opportunities in the workplace while promoting goodwill and teamwork among their employees.
Questions about the race, teams, or registration can be sent via email to WTC_registration_information(at)nycap(dot)rr(dot)com.
The event is organized by, and serves as the major fundraiser for, HMRRC, a not-for-profit 501(c)(3) charitable organization that was incorporated in 1971 and is one of the largest running clubs in the nation, with more than 2,500 members throughout the Capital Region. Since 1981, this fundraiser has helped to underwrite HMRRC's many activities and services, including scholarships to college-bound high school seniors, grants for youth running programs, seminars and clinics for runners, 30 other local running events throughout the year, and a monthly running magazine, The Pacesetter.
About the Hudson-Mohawk Road Runners Club (HMRRC)
The Hudson-Mohawk Road Runners Club is the Albany area's largest running organization. The club was formed in 1971 and today has more than 2,500 members who come in all shapes and sizes and from all walks of life, as well as different running styles and speeds. Members are united in their love of running and desire to promote and participate in quality races and running-related activities. The club organizes nearly 30 running events a year at many different locations throughout the Capital District. These events offer something for everyone, novice and veteran alike.
About CDPHP®
Established in 1984 as a physician-founded, member-focused, and community-based not-for-profit health plan, CDPHP and its affiliates are uniquely positioned to serve as a model of quality and health value, offering members in 24 counties throughout New York with a full array of innovative products. Visit CDPHP at http://www.cdphp.com or on Facebook, Twitter, or LinkedIn.
WorkForce Challenge Event Director: Mike Rabideau (518) 708-5531
CDPHP Contact: Julie K. Tracy (518) 641-5126