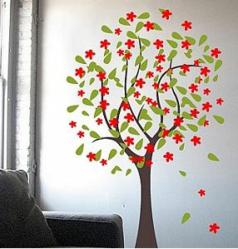 Through our customization option, the Walls Need Love team can help you transform any room into a work of art. Our creative art department can turn a simple idea into a pleasing vinyl wall decal that can be used to revamp a living space.
Nashville, TN (PRWEB) March 31, 2012
In a recent widely published Irish Times story, the prominent newspaper identified vinyl wall art as one of the fastest growing worldwide decorating trends. While the emergence of wall decals as a design trend over the past five years has been fueled by the economy, there have been other contributing factors as well. The combination of the low entry price, small carbon footprint, re-usability of the decals, and the unlimited design options have generated considerable interest in this new design phenomenon. Walls Need Love, which was one of the first companies to enter the market niche, has seen a steady increase in the demand for its product throughout the recession.
Along with bold graphic cushions, textured wallpaper, coquille-d'oeuf ceiling lights, neon signs and bicycle storage accessories, respected columnist Alana Gallagher listed vinyl wall decals as a must-have for contemporary homes.
Walls Need Love, a Nashville-based company that specializes in the creation of custom wall decal art, is a leader in the vinyl wall art industry. This popular design company has international reach due to producing customized, reusable designs that can turn any boring room into a work of art that is only limited by the decorator's imagination. All of the wall decals manufactured by Walls Need Love are custom manufactured with design packages to match virtually every taste. The company has a wide variety of shapes, colors, patterns and themes available that include wall quotes that feature the words of favorite authors, borders and ornamental designs, monograms, famous people and faces, kids' themes, urban chic and abstract designs, Euro style, people and faces, flowers, animals, sports and hobbies, famous travel landmarks, chalkboard and wall motifs. Walls Need Love also has a variety of vinyl wall art with holiday-related, spiritual and religious themes.
Customers interested in wall art can choose from many different design themes that may be arranged on walls according to individual tastes. Although Walls Need Love offers a number of these popular packages, every design pack is custom manufactured to customer specifications that include color, shape and size.
"The Walls Need Love team can help you transform your room into a work of art through our customization option," said Walls Need Love owner Ali Abrahimia. "Our creative art department can transform a simple idea into a pleasing vinyl wall decal that can be used to transform a living space."
In addition to customized wall quotes, Walls Need Love can provide customers with vinyl designs of storybook characters, athletes, celestial objects or virtually anything else. The list is truly endless.
The growth of this industry has been fueled by the needs of homeowners who continue to want stylish, contemporary wall designs but are looking for an economical way to achieve that goal. Walls Need Love decals can provide a high class, designer look at a fraction of the price typically paid. The reusable nature of vinyl wall art also contributes to its popularity. With proper care, items manufactured by Walls Need Love can last up to seven years indoors and three years outdoors when carefully applied and removed from walls or other surfaces.
"One of the best advantages of our products is their small carbon footprint compared to painting and other decorating methods," said Abrahimia. "All of our products are interior safe and may be removed and reapplied without damaging any type of surface."
Walls Need Love is an environmentally conscious company that contributes a percentage of every sale to Soundforest.org and volunteers regularly at The Elephant Sanctuary in an effort to preserve the natural world.