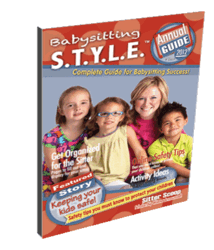 "We have a strict social media safety policy for our sitters and recommend that parents set specific rules with their sitters concerning texting and visiting social media sites" - Adrienne Kallweit, Founder of SeekingSitters
Tulsa, OK (PRWEB) April 30, 2012
With summer around the corner, many parents will be searching for safe reliable child care. SeekingSitters, a full service babysitting referral company, is helping families by providing expert advice on how to find and screen sitters as well as tips for successful babysitting. SeekingSitters is offering a "Sitter Guide" available with advice for families, including a special, in-depth section on social media safety.
The annual guide is called "S.T.Y.L.E. - A Complete Guide for Babysitting Success" that is designed to educate parents and babysitters to help them protect children at home and online, specifically on social media websites such as Facebook.

More than 800 million people are on Facebook
More than 14 million Facebook users are between the ages of 13 and 17
Online predators can use social media to find exact location of potential victims
When someone tags a photo or "checks in" at a park or other location, a predator can track that and find a potential victim
The information provided in the guide is vital to parents and sitters to help understand what dangers can be encountered online and how to have a safe online presence.
"Our sitters follow strict social media guidelines that we implemented several years ago and continually update with the rapidly changing online environment," said Adrienne Kallweit, [Founder of SeekingSitters."Never posting pictures of children they are sitting for and not 'checking-in' while on sitting events are just a few things that we require of our Certified Professional sitters. As always, our goal is to help protect the safety of the children we are watching."
SeekingSitters does all of the work for families: finding and screening all babysitters, scheduling all babysitting jobs for member families and handling all payments through a special online system. The company has in-house private investigators that run thorough background investigation on all sitters.
"S.T.Y.L.E., A Complete Guide for Babysitting Success" can be purchased online at http://www.seekingsitters.com.
For more information about SeekingSitters or to set up an interview with Adrienne Kallweit as well as families or sitters, contact Diane White at (918) 770-3905 or diane(at)seekingsitters(dot)com.
About SeekingSitters
Founded in 2004 in Tulsa, Okla., SeekingSitters is a nationally recognized babysitting service providing reliable, convenient and safe babysitting solutions for families, from last minute childcare needs to regular scheduled services. The company started franchising in 2006 and currently has 57 locations in 23 states. Founded by Adrienne Kallweit, a Licensed Private Investigator, [SeekingSitters has an in-house investigation agency that provides hands on background screening of the professional sitters as well as all member families, ensuring the safest, most enjoyable experience for all SeekingSitters' member families and referred professional sitters. SeekingSitters was named to Inc. Magazine's list of 500 fastest growing private companies in 2010. The company was also the winner of Tulsa's First Annual Entrepreneurial Spirit Award in November 2007 and was named one of the "25 Best Women-Owned Businesses" by Working Mother Magazine in 2008. SeekingSitters has been featured on Fox & Friends, CNN and CNN Headline News, CBS Early Show, in Entrepreneur Magazine and on the CNBC Show "The Big Idea with Donny Deutsch." For more information, please visit http://www.seekingsitters.com.