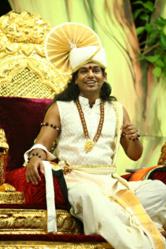 "All auspicious things of life and beyond life are achieved by just this one technique-unclutching."
Los Angeles, California (PRWEB) April 30, 2012
One of the world's most spiritually influential leaders, Nithyananda shared the 'Unclutching' technique, the ultimate for freeing oneself from stress, worry and fear, and moving effortlessly to higher consciousness.
"Unclutching" is a universal technique that can be used anytime, anywhere, by beginners and advanced practitioners alike. This simple method is remarkably easy to learn yet is deeply profound in its impact.
Nithyananda explains that if we look closely, our thoughts are actually independent and disconnected, like bubbles in a fish-tank. Every thought independently rises and dies before the next thought comes up. However, we connect these thoughts and selectively "clutch" on to certain ways of thinking and doing, which creates our emotional vacillation between pleasure and pain.
This "clutching" keeps us trapped in conditioned responses to situations and limits our future experience. When we apply the technique of "Unclutching," we become present with what is, reducing the potential for conflicts. This allows us to respond with freshness, clarity and calmness to situations, instead of just unconsciously repeating the old patterns of response. "Not connecting your past experiences with your current experience, but looking at everything fresh, with awareness, is being unclutched," says Nithyananda.
The beauty of the "Unclutching" technique is that it can be applied instantly at any point in any situation. It does not require one to be sitting in a quiet darkened room or in a tranquil state of mind. Once learnt, it can take the practitioner immediately from being "clutched" – emotionally attached to whatever is going on in one's life, to being "unclutched" – the space of conflict-free living.
Nithyananda said he has initiated many thousands of people into this technique, who have had benefits and improvements in various facets of their lives, including health, wealth, mental clarity, creativity, relationships, and careers.
About Nithyananda:
Paramahamsa Nithyananda is a global leader in kundalini awakening & enlightenment science. He is the 293rd pontiff of the world's most ancient Hindu organization, Madurai Aadheenam. Revered as a living avatar (divine incarnation) by millions worldwide, Nithyananda is the most-watched spiritual teacher on YouTube.com with more than14 million views. He is also the author of more than 300 books published in 27 languages. Nithyananda was recently named among the world's top 100 most spiritually influential personalities of 2012 by the reputed esoteric magazine 'Mind Body Spirit' from Watkins. Clear, dynamic and modern in approach, Nithyananda's teachings have already transformed 15 million followers in 150 countries.
To learn more, please go to http://www.Nithyananda.org and http://www.youtube.com/lifeblissfoundation
Contact:
Life Bliss Foundation
9720 Central Ave
Montclair, CA 91763 USA
Ph: 1-909-625-1400