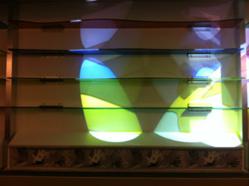 Atlanta, GA (PRWEB) May 15, 2012
"Light Waves: Atlanta", the newest large-scale art installation by Christopher Janney, is nearing completion at the Atlanta International Airport. Janney terms "Light Waves" "an abstraction of Georgia in color and sound." The official dedication of "Light Waves" will take place in conjunction with the opening of the new international terminal on May 3rd, 2012.
Trained as an architect and jazz musician, Janney is an American artist whose work explores the relationships between sound and architecture, often-transforming otherwise ordinary spaces into "hyper-reality" environments.
"Light Waves: Atlanta" features a 160 ft. long hallway composed of 68 horizontal panes of colored glass. Above the glass are thirty-two computer-controlled slowly moving lights. As the lights pass over the glass forms, the colored shadows mix, reflect and refract, to create an ever- changing pattern of color on the wall. In addition, Janney has composed a sound-score to accompany the "light ballet." Composed of environmental sounds, the score draws on indigenous sounds of natural Georgia environments. As well, there are series of "touch panels" along the hallway. As a person walks by and touches one, he triggers a soft melodic tone, allowing them to playfully interact with the artwork. Together, the interactive light and sound create a relaxing, soothing, yet playfully immersive experience for the weary travelers passing through the space.
"This is a continuation of my ʻUrban Musical Instrument' series," Janney states. "The work expands on some of my earlier experiments with colored shadow and the mysterious properties of reflected light. Together with the sound-score and the interactive element, it's an interesting new direction for me in this series of work." Contributing Sponsors include: Chauvet Lighting, Harman International/JBL speakers and Crown amplifiers.
Other projects in summer 2012 include "Sonic Fireflies", a 63-speaker interactive light/sound environment in the new REVEL resorts at Atlantic City, NJ; "Sonic Rings"- a special outdoor environment designed for the Bayside Festival at the 2012 Olympics site in Weymouth, UK; and a feature presentation of "What Is A Heart?" with a live opening set by The Persuasions at the Woods Hole Film Festival, Cape Cod, MA.
Educated at Princeton University and the Massachusetts Institute of Technology, Janney has explored the intersection of architecture and music for over thirty years, creating temporary and permanent installations throughout the United States and Europe. Sometimes he tries making architecture more like music as in his Soundstair on the Spanish Steps in Rome and Sonic Forest at the Bonnaroo and Glastonbury Music Festivals. At other times, he has attempted to make music more like architecture as in his HeartBeat performances with Mikhail Baryshnikov.