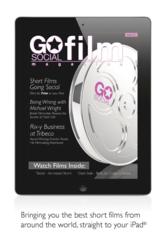 We chose to launch Go Social Film Magazine at the Cannes Film Festival 2012 because of its worldwide reputation and love of film directors.
Cannes, France (PRWEB) May 19, 2012
Go Social LLC today announced the launch of its new Go Social Film Magazine iPad Application. The announcement was made at the Cannes Film Festival in France. Go Social Film Magazine is the first iPad magazine to feature international short films and deliver these films in their entirety directly to viewer iPads. This free iPad application is purpose built to take advantage of the iPad platform to deliver high quality entertainment in a convenient and easy to access format.
Each month readers will be treated to a variety of short films from filmmakers around the world, and will also be taken behind the scenes to meet the filmmakers and learn about the production of their films through exclusive interviews, unseen footage, and interactive multimedia articles.
Go Social Film Magazine's mission is to seek out talented international filmmakers with unique and compelling short films, and bring them to a global audience via the iPad.
"Too often short filmmakers are under recognized and their films don't get the exposure that they deserve. We've created this great cutting edge distribution platform to benefit these filmmakers as well as film lovers." Nadzeya Huselnikava, CEO/ co-founder of GSFM Go Social LLC.
Go Social Film Magazine also includes social media connections for Facebook and Twitter, allowing subscribers to communicate with the featured filmmakers from within the magazine, bringing filmmakers and their fans closer together.
 "We chose to launch Go Social Film Magazine at the Cannes Film Festival 2012 because of its worldwide reputation and love of film directors. The Short Film Corner at Cannes does an amazing job of recognizing short filmmakers, and bringing their films to a wider audience. Cannes is the perfect place for us to reach out to the short film community and give filmmakers an opportunity to be featured in our magazine." Jason Rogan, co-founder of GSFM
"This app takes promotion for filmmakers to a whole new level." Says British Director Michael Wright, whose film Dark Side is featured in the first issue of Go Social Film Magazine. "Filmmakers think in visuals and this enables a perfect fusion of moving pictures, stills and the written word. Until now, people have been just reading about movies in publications. This new platform opens up whole new possibilities for the promotion and enjoyment of film."
The Go Social Film Magazine App is available for free download in the iTunes Store now - http://itunes.apple.com/us/app/gs-film-mag/id524555282?ls=1&mt=8
The Go Social team will be attending the Cannes Film Festival through May 25. For more information contact Nadzeya Huselnikava at nadzeya at gosocialfilm dot com