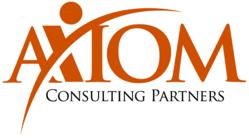 With a few notable exceptions, employee value propositions in the energy sector sound strikingly familiar.

-- Traci McCready, Partner
Axiom Consulting Partners
Chicago, Illinois (PRWEB) May 30, 2012
Axiom Consulting Partners' Traci McCready will conduct a keynote presentation, discussing what energy companies can do about the talent shortage facing that industry, at the Shale Boom Workforce Summit, June 7-8, in Houston.
The summit organizers note that the ramped up pace of drilling and lack of infrastructure in some regions of the country has meant a mad scramble for qualified oilfield personnel. In addition, the lack of a "pipeline" of talent to replace skilled professionals nearing retirement, as well as a general depletion of workers with the specialized skill sets oil and gas companies need, is creating more complications.
Traci McCready, an energy industry veteran and workforce planning expert based in Houston, says there are three factors that energy companies must address to attract the talent they need to execute their strategies.
"First, companies need to better differentiate themselves," McCready said. "With a few notable exceptions, employee value propositions (EVPs) in the energy sector sound strikingly familiar."
"Second, the compensation war is unsustainable. Energy companies can't keep increasing salaries and signing bonuses. In fact, those rewards don't keep employees motivated and committed," McCready said. "Employers should take a closer look at what employees really want."
The third factor McCready points to is the misalignment of strategy, organization and talent. "Some HR departments these days look like scrambling quarterbacks on the football field," McCready said. "They're trying really hard, but it looks like the rest of the team isn't on the same page of the playbook.
"An HR strategy will only work if it is anchored in the same results that the business is pursuing and aligned with the drivers of value that are most critical to the company's success," she added.
About Axiom Consulting Partners
Axiom Consulting Partners works side-by-side with leaders to deliver pragmatic solutions that drive results. Our services help clients clarify strategy, focus on the highest priority sources of value and align their capabilities, processes and people to deliver sustainable, profitable growth. We always look at a client's challenges through the lenses of business strategy, organization design and talent management – it's why they choose us over firms that operate in just one of these disciplines.
Learn more at http://www.axiomcp.com.