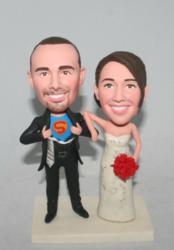 Single personalized cake topper starting at $79, couple custom cake toppers, wedding cake toppers starting at $149, Free proofs, 2 weeks quick ship to worldwide!
(PRWEB) June 03, 2012
Wowminime custom cake toppers Creation offer 10% off order over $250 for June- Nov 2012, The coupon code is: 10POFFW, this coupon is valid for all products include standard body custom cake toppers, custom bobbleheads, or head to toe 100% handmade wedding cake toppers.
Wowminime Creation is simply different from other custom cake toppers providers because they sculpt with the finished product! Most personalized cake toppers providers use poly resin clay and then they bake and mold the dolls – apply paint and the doll is yours…Wowminime Creation uses Polymer Clay – the color is the clay so the final product is actually brighter, true 3D likeness and higher quality.
Wowminime Creation utilize the artistic skill from many sculptors to create the most realistic heads, bodies and optional features their clients ask for. The skill levels of their sculptors are graded and within internal tests their artists advance to different levels of sculpting – this offers the highest degree of skill for the job at hand. Keep in mind, of the many sculptors available, Wowminime only selects a few which meet their exacting requirements.
Customers are amazed at how much detail Wowminime Creation can offer on their wedding cake toppers.
As any organization with great skills, Wowminime Creation is equally proud of their dedicated staff. Wowminime Creation believe that if their clients are happy and love the work they provide, they will give customer the recommendations to the other loved ones and friends they know. This is why they go the extra mile to meet all customer's needs, making sure customers are within the design of the custom cake toppers loop and that every detail is captured.
Features of Wowminime custom cake topper:
A, On average 16-18cm( 6-7 inch) tall when standing upright, 0.5KG (1LB ), suitable to install on most of wedding cake and birthday cake.
B, "Fully customized" Personalized cake toppers 100% (from head to toe,clothing...) made from provided photos and requests.
C, It's made from FIMO polymer clay, do no use paint, can last decades.