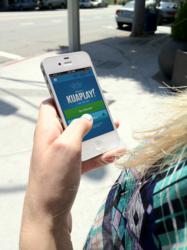 "KuaPlay is a great opportunity for consumers to test the waters of mobile payments."
Santa Monica, CA (PRWEB) June 13, 2012
Today, Kuapay (http://www.kuapay.com) launched KuaPlay, the new social gaming element of its mobile wallet. Now, any individual can sign up for Kuapay (for free) and, instead of spending money, can start earning it. By scanning friends' Kuapay QR codes, users will unlock badges and earn real money, which can be spent at any one of Kuapay's growing list of merchants.
"Expanding Kuapay's mobile payment features into the social gaming space is something that will offer our users another layer of value and fun," stated Joaquin Ayuso de Paul, CEO and founder of Kuapay.
To get started, download and create a Kuapay username and password — don't forget to activate your Kuapay wallet by adding a credit or reward card. Users then find friends using Kuapay and scan their QR codes, to earn KuaCredits. The next time users visit a Kuapay merchant, they will be prompted to complete their purchases using their acquired KuaCredits.
"We take security very seriously," stated Sebastian Vidal, VP of Technology. " Kuapay's QR codes don't store any financial or personal information so there is no risk involved in the scanning process."
To download Kuapay, visit http://www.kuapay.com or go directly to the App Store, Google Play for Android, or Blackberry App World. The KuaPlay feature is on Kuapay's iPhone and Android versions now, with the Blackberry version coming soon.
"This is a great opportunity for consumers to test the waters of mobile payments," explained Joaquin Ayuso de Paul. "We understand that there is a bit of hesitation surrounding mobile payment adoption, so we're offering people a chance to try Kuapay without forcing a commitment."
About Kuapay:
Kuapay, founded in 2010, has built its 'digital wallet' application around patented security technology that offers its users secure mobile transactions. Kuapay is currently available for iPhone, Android, and BlackBerry. To learn more about Kuapay's security efforts, current trials, or how to get involved, please visit http://www.kuapay.com., or email info@kuapay.com
For all press and media inquiries, please contact:
Amanda Pettit Held
Kuapay LLC
press (at) kuapay (dot) com
1-855-5KUAPAY