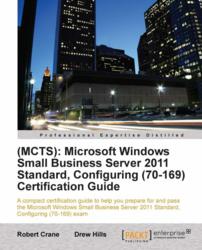 Includes a comprehensive set of test questions and answers.
Birmingham, United Kingdom (PRWEB) June 09, 2012
Packt brings to you (MCTS): Microsoft Windows Small Business Server 2011 Standard, Configuring (70-169) Certification Guide. A hands-on certification guide, packed with practical examples and Q&As, for information technology (IT) professionals, administrator, consultant or system integrator working with small businesses using Windows Small Business Server (SBS) 2011 Standard.
About the Authors:
Drew Hills: With 13 plus years experience in IT, Drew Hills is an Enterprise Administrator, an active and regular contributor to the SMB IT Professional community in Australia having passed 18 different Microsoft Certification exams so far.
Robert Crane: Robert has over 15 years of IT experience with a degree in Electrical Engineering as well as Masters of Business Administration. He's been awarded with the Microsoft's Most Valuable Professional (MVP) award for his contributions to the Office 365 product in 2012.
Microsoft Small Business Server is an integrated server suite designed for running both intranet management and Internet access of small and medium enterprises. Microsoft Small Business Server is technically integrated to enable small businesses with targeted solutions and offer management benefits such as integrated setup, enhanced monitoring and remote access.
This comprehensive guide focuses on set of test questions and answers that will prepare you for the actual exam. With easy layout and content, this book helps you learn and maximize your study time in areas where you need improvement. With additional practical resources included, this book will enable you to approach the Configuring (70-169) exam with confidence.
Through this book, readers will learn to manage messaging collaboration and develop management of users, computers and printers. With the understanding of steps, to configure Remote Access, readers will also learn the installation and set up of Windows SBS 2011 Standard with the management of Health and Security and Advanced Configuration amongst others.
Packt Publishing has also released and is due to publish other Microsoft titles:
Microsoft Windows Intune 2.0: Quickstart Administration (published)
Microsoft Windows Server AppFabric Cookbook (due)
Microsoft Windows Workflow Foundation 4.0 Cookbook (published)
All Microsoft books are Published by Packt Enterprise. Packt Enterprise is a publishing division of Packt Publishing designed to serve the information needs of IT Professionals in the Enterprise space. Packt Enterprise also publishes on Microsoft, IBM, Oracle, Citrix, Java, Amazon, Google and SAP technologies.