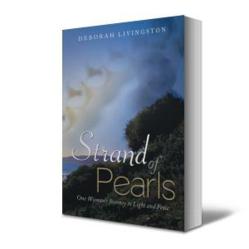 Every life is a story and every life is worth saving.
(PRWEB) June 11, 2012
The NY Times released an article on child abuse on June 7, 2012, entitled, A Troubled Silence, by Richard B. Gartner. It discusses the "alleged widespread child abuse at the elite Horace Mann School in New York City." The article points out the importance of the after effects of child abuse and that a current law that states a victim after five years of the age of 18 has no recourse.
The memoir, STRAND OF PEARLS, One Woman's Journey to Light and Peace, by Deborah Livingston, released in January, serves as a solution for helping victims of child abuse and the after effects. In Deborah's memoir, STRAND OF PEARLS, Deborah Livingston recounts her journey from childhood abuse, frequent tragedy and adult addiction to a spiritual transformation that brought her an inner peace and joy available to us all. Deborah was the first of three children born to parents--a Canadian father, a New England mother--who were worlds apart in their own upbringings and views of the world. From two to sixteen, when she was finally able to break free, Deborah suffered abuse at the hands of her father. You tube trailer
Her freedom from that abuse took her to abuse at the hands of others, and to a tragic accident that cost the life of a friend. Her misfortunes early in life and her inability to see them as the "pearls" they actually were led to serious addiction in her early forties. And yet this addiction saved her life, preparing her for the inner transformation she would experience. In STRAND OF PEARLS to embrace Deborah Livingston invites the reader into the most painful, raw moments of her past so that the light of the present might shine brighter--as an invitation to others hope, faith and gratitude in their lives.
The NY Times article, A Troubled Silence, states, "But in my decades of experience working with abuse victims, I have found that men spend years putting their emotions in a deep freeze or masking post-traumatic reactions with self-defeating behaviors like compulsive gambling and substance abuse. Eventually, they are forced by internal or external events to find treatment." Although Gartner only sites men as mostly spend years of suffering, it is both women and men that will deeply benefit from Deborah's memoir, STRAND OF PEARLS, and also will view life with new eyes and find an inner peace that was in them the whole time, enabling them to cultivate their own pearls of life.