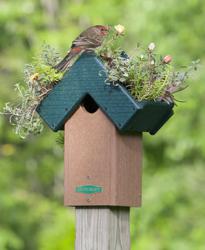 I really like the fly-thru concept and I'm glad Duncraft now has a house like this. Jeanette M, Duncraft Customer
Concord, NH (PRWEB) June 12, 2012
Duncraft's newest creations are Rooftop bird houses and bird feeders that have planters as roofs. Using their own plants and flowers, Duncraft customers can transform their bird feeding areas into stunning focal points and enjoy beautiful flowers along with their beautiful birds.
By using recycled plastic, Duncraft has been able to make flower box roofs that are impervious to damage from the elements. Recycled plastic is waterproof, stain proof, and never warps or cracks. Customers can fill the Rooftops with potting soil and plants and then water as much as they need to—and never worry about ruining their bird feeder or bird house. Duncraft offers two new bird houses and two new bird feeders with the new Rooftop design.
One of Duncraft's new bird houses, the Rooftop Fly-Thru Bird House is not only unique because of its flower box roof, it also offers two more innovative features that are unlike any others on the market. The first distinctive attribute is that the bottom of the house has been fashioned so that it fits right over a 4 x 4 post. It can then be fastened to the post with supplied screws through pre-drilled holes, making an extremely secure and stable installation.
The second interesting aspect to the new Fly-Thru Bird House is that it features two entry holes, one in front and another in back. Bird researchers have shown that if the nest is violated in some way with a parent bird inside, the bird can use the second entry hole as an escape route and avoid a confrontation with other birds or intruding animals. Duncraft strongly advocates the use of a post baffle with any bird house to keep predators away, but if predators do manage to bypass the baffle, the extra opening could be a lifesaver for any bird within the house.
Founded in 1952 and located in Concord, New Hampshire, Duncraft's objective is to bring the joy of backyard birding to wild bird lovers all across the country. Mike Dunn, owner and CEO is constantly inventing and searching for innovative ideas in bird feeding—giving bird lovers years of bird feeding enjoyment, success and satisfaction.
Duncraft
102 Fisherville Road
Concord, NH 03303
603-224-0200