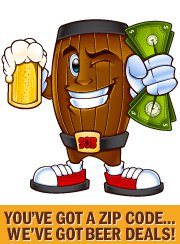 Beer is an appropriate gift because it's something that has historically brought people together, which is what Father's Day is really all about.
Houston, TX (PRWEB) June 13, 2012
Father's Day is rapidly approaching and the gang at SaveOnBrew.com wants to help sons and daughters find the perfect gifts for their dear old dads. The National Retail Federation found that the average consumer will spend $117 this holiday, but a TechBargains survey found that 65 percent of fathers would rather get nothing than another generic tie. For the most part, it's shared family experiences that matter most to dads this year.
"Beer is an appropriate gift because it's something that has historically brought people together, which is what Father's Day is really all about," explains SaveOnBrew's Mark Davidson. "So, whether you're buying dad a homebrew kit that you can do together or attending the Craft Beer and Bacon Festival in New York City, it's beer that becomes a catalyst for this bonding experience."
The tongue-in-cheek SaveOnBrew beer blog offers a few ideas for Father's Day gifts, such as a:

Mr. Beer Home Brew Kit
Subscription To The "Beer-of-the-Month" Club
Kegerator
Beer-Related Book
Beer Documentary Film
Remote-Control Beer Cooler
Beer Memories Scrapbook.
There are also limitless options for a D.I.Y. beer-themed gift basket. Beer pint glasses, personalized koozies, bottle openers, craft brew bottles, food pairings, beer tasting guides, t-shirts and coolers. This type of Father's Day gift would pair great with a tour of a local craft brewery, a beer tasting event, or a beer festival.
According to site founders, there are several types of beer that generally go over well with fathers. The more complex tastes of obscure craft brews will really impress the palate. SaveOnBrew recommends:
Arrogant Bastard (bitter, piney, earthy, creamy, strong ale)
Rogue Dad's Little Helper Black IPA (a rich, dark roasted pine and chocolate)
Mikkeller Black Hole Barrel Aged Edition (big roasted aroma with a hint of bourbon sweet)
Rochefort Trappistes 10 (a hardy 11.3%ABV beer with hints of plum and spice)
The Duck-Rabbit Baltic Porter (full-bodied and complex, hints of chocolate and coffee)
Aventinus Wheat Doppelbock (a meal in a bottle – yeast, spice, clove, wheat, hint of banana)
Bell's Oberon (a mildly fruity wheat beer for dads who like Budweiser)
Pilsner Urquell Kvasnicový (a Czech pilsner with crisp malt, subtle sour hops, big body)
Lost Abbey Red Poppy Ale (oaky brown ale with subtle cinnamon/cherry notes)
Weihenstephaner Hefe Weissbier (cloudy, earthy, medium body, mild citrus and clove)
Before building that perfect gift basket, consumers are invited to visit http://www.SaveOnBrew.com, where they can search for beer sales within their zip codes.
Results can be narrowed down by beer brand, type, container style, store or quantity. SaveOnBrew is the internet's only search engine for beer and it also provides maps to the nearest store with the lowest price.
About SaveOnBrew.Com: Founded in 2010 to help thirsty beer drinkers across the United States find the lowest advertised prices for one of the world's most popular beverages.