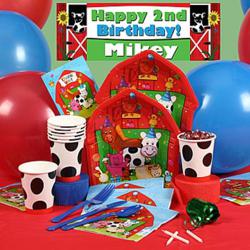 South Whitley, IN (PRWEB) June 13, 2012
Finding new ideas for a kid's summer birthday party can be a challenge. "This year at Shindigz, we looked for fresh spins to find seven summer birthday hot spots for your child's special day," says Jacquie Downey, Director of Sales and Marketing at Shindigz.com, a leading national party supply and birthday party decorating store. "The result when you combine popular, birthday themes with a hands-on interactive location is an event kids will remember for years to come."
First Pitch / Minor League Baseball
Your birthday son or daughter takes the mound for the game's ceremonial first pitch. The nearly 200 US minor league baseball teams are well-known for catering to kids with their wacky between inning contests and kids clubs. Many clubs now offer the first pitch as the highlight of their birthday packages.
Beauty Spas
Pampering the princess and her friends is the theme with mini-manicures, mini- pedicures, and quick hairdos. An added plus of a beauty school birthday party: Choose to celebrate at a beauty school and the classrooms double as private spaces for the celebration.
Zoos
Kids and animals make perfect companions for a safari party. A sampling of zoo birthday offerings show scavenger hunts, live animal time, and behind the scenes tours during the party are popular.
Create! / Art Museum
Museums cater to the creative spirit in birthday kids and their guests. Making works of art is the focus for many events. Activities can range from mask making, printmaking, clay sculptures, to creating a costume with a 'fashion' parade in the museum.
All The World's a Stage / Theaters
Regional and community theater companies find ways to bring out the acting bug in all. Parties themes include fairytale character appearances, Victorian tea parties, dress-up events to a create-your-own mini play party.
Glow in the Dark Miniature Golf
Combine the crazy holes of miniature golf and add ultraviolet black lights and you get the latest trend. Many courses also illuminate the party room in black light to complete the experience.
Down on the Farm
The local and natural food movement make nearby farms a fun birthday party destination. Kids typically feed chickens and ducks, enjoy hayrides and munch on fresh-picked treats.
About Shindigz
Since 1926, Shindigz has "made life more fun" for 22 million birthdays and events through the manufacture and sale of personalized party supplies. It ships products from its facilities in South Whitley, Indiana across the United States and around the world to 59 countries. With more than 34,000 products, it provides customers with a complete party solution. For more information about Shindigz, go to http://www.shindigz.com.