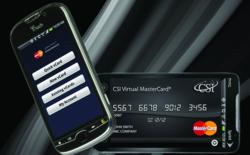 "Our globalVCard mobile app offers business users protection and peace of mind while enjoying the convenience of on-the-go mobile purchasing."
Bonita Springs, FL (PRWEB) June 14, 2012
CSI Enterprises, Inc., a leader in innovative financial solutions for enterprises and businesses, revolutionized the mobile payment market with the launch of the CSI globalVCard mobile application, leading the global movement into the vast mobile wallet arena and reaching a more prominent market.
Built on a strong foundation of security, control and convenience, CSI globalVCard's most avid clients all share a higher risk for account fraud associated with their high profile executive status. The convenience of the mobile app, as well as the trusted reputation and technology behind it, has intrigued a number of top executives to add this alternative mobile payment method to their business. Although still a developing product, the cachet market is able to receive immediate benefits by taking advantage of globalVCard's current functions. As an assertive player in the mobile payments space, CSI globalVCard found an opportunity to expand their market to explicitly assist high profile executives of corporate America.
"Credit cards are one of the most vulnerable areas for identity thieves to strike," explained Keith Stone, CSI President and CEO. "Our globalVCard mobile app offers business users protection and peace of mind while enjoying the convenience of on-the-go mobile purchasing."
The High Profile Corporate Executive, Celebrity or Sports Professional market is a client base that can benefit from utilizing all of globalVCard's features within their business. Executives are able to create secure single and multi-use virtual account numbers enhancing security of credit card payments. The app has custom controls including the ability to restrict cards by merchant category group, number of transactions allowed, and dollar amount. Once created, the globalVCard can be copied and pasted from the user's mobile device into an Ecommerce website or emailed to anyone, anywhere in under a minute, making it a convenient payment option.
For more information on CSI globalVCard please visit, http://www.globalvcardplatinum.com/.
CSI Enterprises Inc. provides a specific line of controlled financial payment products including business fleet fueling/maintenance payment cards, a corporate virtual payment and card solutions for corporate purchasing, travel and entertainment spending. Today, CSI and its products operate in all fifty states including Canada, Mexico and the Caribbean.