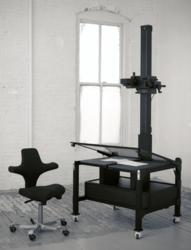 This industry requires solutions that not only output the finest image quality, but are also durable, easy to use, and won't become obsolete in a few years. The DT RGC180 was designed to answer these demands.
New York, NY (PRWEB) June 15, 2012
The Digital Transitions Division of Cultural Heritage will be debuting their new DT RGC180 Capture Cradle, the latest integration of book capture and reprographic technology, at the upcoming 2012 ALA Annual Conference in Anaheim, CA. Designed to produce preservation grade images at the fastest rate of capture, the DT RGC180 is the optimum digitization solution for the rapid capture of rare, bound and loose materials.
The DT RGC180 features a built-in pneumatic 180° dual platen book cradle that automatically adjusts to the thickness of bound collections. The system is designed to bring printed materials to optimal focus and accommodates books up to 25" x 35" with up to 4" bindings. The book cradle platens are self-adjusting platforms that utilize dual pneumatic pistons for raising and lowering. The platforms gently push the books against the glass plate for image capture and can also leave documents partially open when the binding is too fragile and cannot be completely flattened. The RGC180 is operated by foot pedals and can be fine-tuned to protect the widest range of materials.
"The DT RGC180 Capture Cradle was originally designed and built for the National Archives Records Administration with the intention of providing preservation-class images in a highly efficient workflow," said Division of Cultural Heritage Director, Peter Siegel. "This industry requires solutions that not only output the finest image quality, but are also durable, easy to use, and won't become obsolete in a few years. We answered these demands by incorporating a modular design so that its components can be upgraded as technology advances. To further increase versatility, we include a 30" x 40" copyboard and continue to design accessory solutions such as the DT Film Scanning Kit so a wider variety of materials can be digitized utilizing the same system."
DT RGC180 Key Features

180° anti-reflective glass platen enables the digitization of up to of 25" x 35"
books with up to 4" bindings

Two pneumatic platforms that automatically adjust to your book for optimal focus
System can be fine-tuned for the safety of the widest range of materials
The optimum solution for the digitization of books, foldouts, works on paper, serials including newspapers, loose manuscripts, photographs, drawings and more
Delivers preservation grade images in the following formats and color spaces: TIFFs, JPEGs, PDFs in RGB, grayscale and CMYK modes. Open Source Raw and DNG also supported.
Utilizes the finest digital capture technology available, producing 480MB 48-bit image files
Compliant with the most stringent Federal Agency Digital Guidelines Initiative (FADGI)
Open platform design allows camera and capture devices to be upgraded, preventing obsolescence
DT Dual Crop Tool available
Easy to Use - Operated by foot pedal
New DT Fim Scanning Kit
The DT Film Scanning Kit is an add-on fixture for use with the new DT RGC180 Capture Cradle or DT RG3040 Reprographic System. This system answers the industry's demand for a faster and higher quality scanning solution that will digitize photographic films, plates and translucent materials. Boasting an image capture every two seconds, the DT Film Scanning Kit is over 200 times faster than flatbed or drum scanners. This system incorporates a cooled transilluminator to digitize all types of photographic plates as well as negative and positive film from 35mm up to 11" x 17" and includes all the necessary film pattern holders.
For more technical information concerning the DT RGC180 Capture Cradle or DT Film Scanning Kit, contact Digital Transitions at info@digitaltransitions.com; or visit the website at http://www.dtdch.com.
DT Division of Cultural Heritage
The DT Division of Cultural Heritage was established to support the digitization programs of cultural heritage institutions, archives (municipal, private, and corporate), libraries, and private collectors as well as the imaging companies that serve these markets. Their vast and diverse experience in the cultural heritage community has enabled them to develop the finest digitization and scanning equipment, as well as provide comprehensive service and support. The core ideology of the Division of Cultural Heritage is to share knowledge and experience, while remaining steadfast in this ever changing technological environment. They are dedicated to serve this industry long into the future and, therefore, want their client experience to be one built on mutual trust and accountability.
The company's DT RG3040 Reprographic System and BC100 Book Capture System are already well known and used in many prestigious cultural institutions nationwide including the Library of Congress, Smithsonian Institution, Princeton University, The Getty Trust, New York Public Library, and many more. The company is located at 35 W. 35th St., 4th Floor, New York, NY 10001. http://www.dtdch.com.