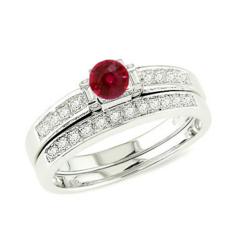 Ruby rings and Ruby diamond rings are very popular with women who prefer them to use as engagement rings.
Baltimore, MD (PRWEB) June 16, 2012
Ruby is one of the most popular gemstones. Women have always been attracted with different shades of Red that Ruby is available in. Deeper the Red color of Ruby, the more expensive the gemstone becomes. Ruby has been used in jewelry for over 2000 years, and it has always been equally popular with both women and men who have used it in jewelry. JewelOcean has announced that it is going to upgrade its collection of Ruby Rings to include more Ruby engagement rings and Ruby diamond rings to meet the growing demand of the customers.
Ruby has been used in jewelry for both men and women for over 2000 years. Being a gemstone with such a long history, numerous myths and legends have been attributed to Ruby. The red color of Ruby is suppose to bring in long and prosperous marriage. This is one of the reasons Ruby is very commonly used in engagement rings and Ruby engagement rings are popular. The new redesigned collection at JewelOcean would feature an unique range of Ruby engagement rings which would be made available at affordable prices. The collection would feature Ruby engagement rings starting from only $299 onwards. One of the main reason to provide the Ruby engagement rings at such low prices is to attract couples who cannot afford to purchase expensive diamond engagement rings.
The new JewelOcean collection would also feature Ruby diamond rings. Engagement rings would be made with Red Ruby gemstones which would be further complimented with white diamonds. These Ruby diamond rings would be available from sale price of only $399 onwards. JewelOcean already has few Ruby with diamond rings, therefore the new selection would focus on improving the number of Ruby diamond rings available on sale.
Men would like the collection of Ruby rings for women that JewelOcean would have on offer. The collection would feature Ruby rings for women which we would be available in gold and which women can customize according to their needs and requirements.
JewelOcean is the leading retailer of diamond engagement rings. Jewelocean is updating its collection of Gemstone engagement rings to include more Ruby rings at discount prices. All purchases on JewelOcean come with free shipping and refund policy. Customers can visit the JewelOcean.com website for more information on Ruby Rings and Ruby engagement rings.