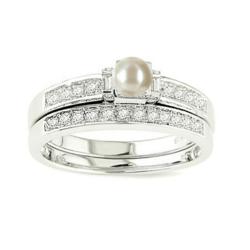 Pearl Engagement Rings and Pearl Wedding Rings are thought to signify purity and beauty, and therefore they are especially preferred by women as their engagement rings
Baltimore, MD (PRWEB) June 19, 2012
Pearl is one of the oldest gemstones known to men. Pearl has been used in making jewelry since ancient times, with examples of pearl jewelry found in cultures ranging from Egyptian to Persian. The popularity of pearl jewelry has not decreased with time. Pearl Rings continue to be very popular today with women. Following the growing demand, JewelOcean is now launching a revamped version of its Pearl rings collection to offer women more choices with better designs.
Pearl comes in many colors and white pearls are the most common pearls used in making jewelry. Many women believe that white pearls signify purity and truth, and therefore they are attracted to pearl engagement rings and want to use it for their wedding. In fact, Pearl engagement rings have become increasingly popular in recent times, when more women are looking for alternative engagement rings and prefer their engagement rings to be unique. Natural pearls can be very expensive as they are available in limited quantity and are quite rare. However, to meet the increase demand of pearl rings by women, many companies have started making freshwater cultured pearls. The freshwater cultured pearls are available in larger quantity as they are farmed and as such their prices are substantially lower. The JewelOcean new pearl rings collection would feature pearl engagement rings with both natural pearls found in deep ocean, and with freshwater cultured pearls. For women who are looking for pearl wedding rings, they would find a range of cheap and affordable options available to them.
The new revamped pearl collection on JewelOcean would also feature pearl bridal sets and pearl wedding sets. The pearl bridal sets are a collection of engagement rings and wedding bands, where the engagement ring would feature a beautiful pearl as its center stone. While pearl bridal sets would be offered in limited styles, JewelOcean would test their popularity with its customers by offering them at discounted prices. According to the company, Pearl wedding sets are still a new niche market, and customers would only be attracted to them if they are available at a decent price.
JewelOcean new pearl collection would be offered to the customers by 20th June, 2012. Customers can browse and order the collection, which would offer few pearl rings at introductory discount prices. JewelOcean provides quality customer service by providing 24/7 customer phone support and refund policy on all purchases. The company, famous for making discount engagement rings and wedding sets, would offer the pearl rings to its customers with the same principles of offering quality merchandise at affordable prices.