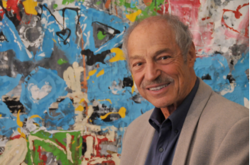 Las Vegas, NV (PRWEB) June 19, 2012
"There are 3 people who transformed my life: One is Mark Lamm," says motivational speaker and best selling author Anthony Robbins. "Mark is my friend, mentor and model of wellness and longevity."
Mark Lamm, founder of the BioSync Research Institute, will be inducted into the World Massage Festival Hall of Fame on August 19th, 2012 in Las Vegas, Nevada. The World Massage Festival is dedicated to the improvement of Massage and Bodywork therapies, educating the public about the benefits of these therapies as well as empowering therapists to explore new therapeutic touch modalities and techniques. The World Massage Festival, now in its 7th year, was founded by Mike Hinkle and Cindy Michaels and has been the platform of such industry experts as Mukti Michael Buck, Laura Allen, Ben Benjamin and James Waslaski. Now joining these experts is Mark Lamm.
Lamm will give an informative presentation on the integral aspects of the BioSync® whole body protocol for wellness framed with personal experiences that, at an early age, shaped his perception of health and healing at the organization's upcoming event.
Lamm says, "At 84 infinite years, I am healthier, happier, stronger and more flexible than ever, and ready to partner with you as a resource for living healthy — sharing my techniques, philosophies and concepts on whole body wellness."
As a Jewish child growing up in Nazi Germany, Lamm learned the Yin and Yang of courage/fear and love/hate. "My childhood taught me both compassion and tolerance. I grew up wanting to be of service to people." As Lamm matured, he discovered a passion for movement — dancing, bodybuilding, yoga, martial arts. This epic journey into body awareness contributed to the healing foundations of his life's work, BioSync.
Lamm has studied with indigenous healers, shamans, yogis and Qi Gong masters. For more than forty years, Lamm has worked with "professional athletes that wanted to play at their highest level, CEO's needing a psychological edge, travel-weary diplomats, and even pregnant mothers that simply needed tired muscles and frayed nerves soothed" shares former Executive Director of the Trager Institute, Dr. Don Schwartz. He writes, "Mark Lamm is proof that physical mastery and emotional and spiritual excellence are available to anyone at any age. This somatic pioneer is a masterful practitioner of this multifaceted approach to life extension, and his work, BioSync, should be an important part of any effective health and wellness program."
Lamm believes that BioSync is an important and necessary health care option the intent of which is to address the effects of stored physical and emotional traumas. The focus is on self-awareness, stress reduction, pain relief and rehabilitation using the transformational effect of therapeutic touch.
Lamm comments, "Rather than thinking of health/healing as a return to homeostasis, I prefer to think of it as a process of evolution. We are either devolving/deteriorating or we are evolving/pro-generating.
About Mark Lamm: Mark's gift of transformational touch has taken his clients beyond limiting beliefs, beyond pain, beyond traumatic life events to lasting results through BioSync. He maintains an active private practice serving a worldwide client base of entertainers, politicians, diplomats, celebrities, CEO's, athletes in the NFL, NBA, ATP, track and field and figure skating Olympians, and extreme athletes in snowboarding, surfing and motocross.
About BioSync Research Institute: Overseen by Mark and his wife Leah Lamm, together training consultants through the Certification Program and practitioners through the BioSync® Barefoot, BioSync® Assisted Yoga and BioSync® iCore modular workshops. It is the BioSync Research Institute mission to create a dynamic, integral and playful learning environment wherein participants explore and experience BioSync as both art and science, treatment and tool, and wherein the learning interaction is one of mutuality between the participant and Mark Lamm. These certification programs and workshops are an organic and innovative learning process providing powerful principles, concepts, tools and techniques, mentoring and support that will enrich your private and professional practice.