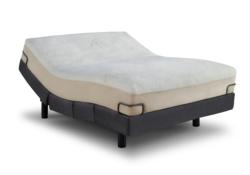 "Our sleep system ensures guests have the perfect night's sleep, which is an essential part of a positive hotel experience." says Lisa Tan, Reverie's Director of Marketing
Silver Creek, NY (PRWEB) June 20, 2012
"Our sleep system ensures guests have the perfect night's sleep, which is an essential part of a positive hotel experience." says Lisa Tan, Reverie's Director of Marketing. "But we also improve guests' waking experience. Whether relaxing in Zero Gravity with the massage or sitting up and working on a laptop, guests will feel the benefits of adjustability and customized comfort."
The patented sleep system features a premium mattress that allows hotel guests to customize the firmness level of their bed. The adjustable foundation is controlled by a wireless backlit remote that lets guests adjust their heads and feet into the sleeping or relaxation position of choice. Remote features include massage functions at 10 different intensity levels and a "zero gravity" function, which elevates the head and feet into a relaxation position simulating "weightlessness" of a zero gravity chamber.
Additionally, Reverie has exclusive technology that allows guests to control the bed and guestroom appliances that are connected to a common power outlet with a mobile remote app. The future has arrived!
About Reverie®:
Reverie® is a leading manufacturer of innovative mattresses, adjustable beds and pillows to the trade and directly to consumers. With R & D and manufacturing in New York State and warehouses throughout North America, Reverie manufactures all its mattresses in the USA and continues to be a cutting edge leader and innovator in the sleep products industry. For more information, visit the website at http://www.reverie.com/, call 1-800-456-7383 or email marketing@reverie.com.
About GUESTROOM 20X®:
GUESTROOM 20X is a futuristic guestroom featuring the latest and near-future technologies for the modern hotel room. HFTP produces a new version of the special exhibit every other year. It debuted at HITEC 2006 and has been on display at various trade shows since. Technologies in the exhibit include non-traditional types such as lighting, eco-friendly products, fabrics and furniture, as well as traditional technology such as next-generation televisions, mobile devices, telephones and robots.