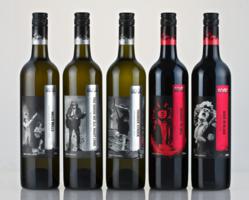 The new AC/DC wine label is not only very clever marketing, it's actually quite a very good wine!
Hamden, CT (PRWEB) June 25, 2012
Rock legends AC/DC are set to expand the availability of their range of wines following their official release last year in Australia. AC/DC The Wine has become a huge hit with fans while also achieving critical acclaim.
Sales figures compiled by Warburn Estate, the exclusive producer of AC/DC The Wine, show that more than 50,000 cases have been sold since the initial introduction last fall in Australia, including retail sales of greater than 6,000 cases within the first week after its release – record sales levels for the launch of a new proprietary wine brand.
The deal was brokered by Live Nation Merchandise, AC/DC's worldwide merchandise representative.
Peter Jackson, whose Winestate Wine Marketing and Promotions company reviewed the wines shortly after the Australian release said, "Traditionally all Winestate judging's are run exactly the same as any typical wine review program. With over 10,000 wines judged every year, more than 60% of wines submitted are not recommended. The new AC/DC wine label is not only very clever marketing, it's actually quite a very good wine!"
AC/DC The Wine is sourced from some of the Southern Hemisphere's most popular and established wine regions, Southeast Australia and Marlborough, New Zealand. The wines are styled for maximum enjoyment while the packaging features graphics from a number of AC/DC albums. For the greater than 20 million AC/DC fans on Facebook and wine lovers around the world, the price-quality value of these wines and the unique story are a sure hit.
AC/DC The Wine will be released in the United States with four varietals for fans and wine lovers alike; Back in Black Shiraz, Highway to Hell Cabernet Sauvignon, Thunderstruck Chardonnay and Hells Bells Sauvignon Blanc. A fifth varietal, You Shook Me All Night Long Moscato, will be available soon!
The wines go on sale today at http://www.vinport.com and beginning shortly the wines will be available through select national, regional and local outlets including featured Total Wine and More (http://www.totalwine.com) locations. The suggested retail price of the wines is $17.99.