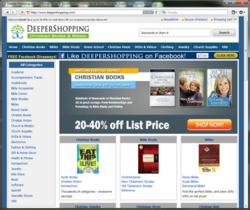 If you don't have an eCommerce Web Store, or if your website is little more than a photo of your store and your address, you are missing out on the opportunity to engage customers in online sales. And if you are paying for a web store then you are wasting
Atlanta, GA (PRWEB) June 23, 2012
Available to all physical booksellers in the United States and Canada free of charge, the service provides retailers with a sophisticated and yet easy to use eCommerce Web Store pre-stocked with STL's entire Christian product inventory. Also included is inventory from all other major North American Christian Book distributors.
DeeperCalling Media is the acknowledged global leader in e-commerce web stores for independent booksellers, offering web stores that feature the option of choosing 200,000 Christian book & Church products, or 3 million books for the general book market.
Send The Light Distribution is the premier North American distributor for Christian Book & Church Resource product. The company supplies wholesale accounts such as Christian and general bookseller stores, and offers a drop ship service using the latest EDI innovations.
The new partnership enables existing STL retailers to set up their own bookseller web store within a matter of minutes. Their new Web Store will allow retailers to sell products from their own physical location, as well as inventory held in drop ship distribution centers at STL and other distributors.
The process involves completing an online registration form that takes no more than a minute or so to fill out. Within one to two business days booksellers can be online selling products.
Each eCommerce store is free of upfront application fees, and free of monthly service fees. Each store offers all the bells and whistles expected of a professional grade eCommerce Bookstore. The free program is open to customers who do not have an existing Web Store, as well as customers using paid services from other vendors.
On average, customers switching from other Christian bookseller programs will save approximately $800 to $1,000 per year. Those switching from IndieCommerce will save approximately $2,100 per year. Savings can then be used to purchase more stock for this year's Christmas season, pay holiday overtime hours, or to invest in other types of marketing.
"This new service is perfect for retailers who do not have an established online presence. And its free price point is an excellent value," stated DeeperCalling Media CEO Bill Goodyear.
"If you don't have an eCommerce Web Store, or if your website is little more than a photo of your store and your address, you are missing out on the opportunity to engage customers in online sales. And if you are paying for a web store then you are wasting valuable money," Goodyear states.
"Most retailers are shocked when they experience how a real Web Store can make their lives easier," Goodyear continues.
"Retailers can use the service to handle special orders for clients needing items that are not available in store. They can use it to continue selling to customers who have moved out of town. And at Christmas, the opportunity for customers to shop online and have products delivered to their loved ones around the world is a huge convenience and benefit."
Goodyear says it is important to remember, "As a retailer, if you think your customers are not shopping online you are wrong – you are giving your business away to your online competitors." He continues, "Now is the time to strike back at those competitors and service your client's in store and online purchasing needs."
The new program starts June 2012. Registrations can be made by calling Send The Light Distribution at 1-800-289-2772 ext. 296. Booksellers may register online at https://signup.clearcheckout.com/cart/storeenrollment_free.php?store_compensation_plan=84 . Retailers can also preview the service at the Orlando ICRS show in July at the Send The Light Distribution booth 663.
# # #
Send The Light Distribution is a national distributor of Christian media products from warehouses on the East coast (Elizabethton, Tennessee & Waynesboro, Georgia), and the West Coast in Sparks, Nevada with next-day delivery available to most locations in the U.S. More information can be found at the http://www.stl-distribution.com/ website.
DeeperCalling Media is the established leader in eCommerce Web Stores for Booksellers. The company provides retailers in the United States, Canada and the United Kingdom with optimized easy to use Bookseller Web Stores. More information on DeeperCalling Media can be found at the company website http://www.deepercalling.com. Customers can preview a demonstration web store at http://www.deepershopping.com