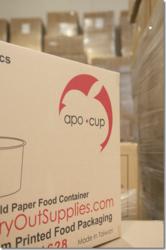 Despite slowdowns in many parts of the economy, the frozen yogurt industry continues to enjoy aggressive growth
City of Industry, CA (PRWEB) June 26, 2012
CarryOutSupplies.com, the leader in manufacturing and distributing a complete range of paper and plastic carry out supplies, announced today that it is experiencing record sales growth of its high quality, cost effective custom printed yogurt cups.
CarryOutSupplies.com, which serves clients of all sizes across the country, including small independent operations and large franchises, credits the record sales growth of its custom printed yogurt cups to six key factors:

Cost-effectiveness: no setup fee and factory direct pricing
Customization: free custom printed restaurant supplies and no color limits
Speed: rapid turnaround regardless of order size
Flexibility: lowest quantity requirements in the industry
Convenience: take out supplies can be purchased online 24/7
Quality: strict adherence to FDA guidelines and quality control
"Despite slowdowns in many parts of the economy, the frozen yogurt industry continues to enjoy aggressive growth," commented Jimmy Chan, COO of CarryOutSupplies.com. "IBISWorld reports that between 2006 and 2011, the frozen yogurt industry grew 5.9%, while the number of frozen yogurt stores increased by an annual average of 4.32%. Throughout this period, CarryOutSupplies.com enjoyed client and revenue growth that were substantially higher. We believe this industry is on track to become a billion dollar industry. And thanks to investments we've made over the years in our systems, capacity, technology, equipment and personnel, we're currently the industry's go-to source for custom printed yogurt cups and poised to be for years to come."
Added Chan: "We also know that branding is top priority for all of our clients as they seek practical and cost-effective ways to distinguish themselves from the competition. That's why we add our clients' logo to both yogurt cups and spoons as well. It's a powerful and cost-effective way for our clients to stay top-of-mind with their customer base, while expanding their brand to reach new customers."
Frozen yogurt and gourmet ice cream businesses of all sizes – from small one-person operations to large enterprises – can learn more about CarryOutSupplies.com's selection, features and pricing by visiting the company's website. They can also contact the company at 888-982-1862 Monday through Friday from 9am to 7pm (Pacific Time).
About CarryOutSupplies.com
CarryOutSupplies.com, the leader in paper and plastic manufacturing and distributing, is dedicated to offering quality products, low prices and reliable customer service. The company started serving the local marketplace in 2004 and expanded its operations in 2007 to serve nationwide demands. Throughout its history, the company has experienced growth every year by maintaining and increasing a loyal clientele, and offering cost saving and convenience with its free custom print service for custom paper cups and custom plastic cups. Learn more at CarryOutSupplies.com.