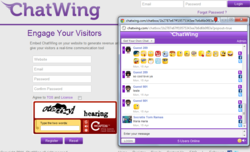 San Diego, CA (PRWEB) June 23, 2012
Livejournal bloggers can now utilize a globally potent website chat application known as Chatwing. This chat tool has been making a name in the blogosphere lately, generating lots of signups during the first and second week of June. The Chatwing team has also introduced their chat tool in several online communities such as gaming, technology, blogging, and even finance. Chatwing has many key features that have contributed to its overall positive ranking.
One of the strong key features of Chatwing is social media integration. Through this option, Chatwing users will now have the opportunity to log in with their Facebook or Twitter accounts. This simply means that they can expand their social networks by a considerable percentage. Livejournal bloggers who have also used the latest version of Chatwing have noted that the visibility of their blogs and websites have increased by up to 50%. The percentage goes even higher if the content of the blog is informational and interesting. Currently, the Chatwing chat box can accommodate up to 600 users at the same time.
The Chatwing team is also working hard to ensure that all of their chat boxes will function with minimal technical errors. In case of errors, the Chatwing admins will always respond in the least possible time. Also, bloggers have also benefited a lot from Chatwing's easy installation mechanism. Instead of dealing with complicated commands, the user just needs to register his domain's user name, customize the appearance of the widget, and retrieve the HTML code necessary for the embedding process. After embedding, the widget usually goes live in just a few seconds.
Even though the competition of chatrooms is tough, the Chatwing chat tool will continue making a mark because of the dedication of its development team. The Chatwing chat software team has also stated that they will keep pushing for more updates in order to provide efficient communication leverage for everyone. The team also promises to make the shoutbox run even faster than before.
About Chatwing.com
Chatwing.com has developed live chat software for websites and blogs. It caters to different online communities due to its high rate of connectivity. Everyone can create a customizable live chat box feature in 1 minute or less. Users have the ability to customize the size, color, and fonts of the chat product. The ability to chat via social media accounts such as Facebook and Twitter enable Chatwing to offer a personal and unique real-time experience to all sites. Chatwing free chat widget is 100% free and very easy to use.