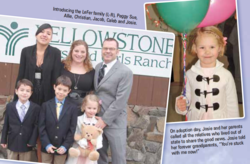 Billings, Montana (PRWEB) June 24, 2012
Yellowstone Boys and Girls Ranch of Billings, Montana, has chosen Allison and Christian LeFer as Foster Parents of the Year for their "out of the box" approach to therapeutic foster parenting.
This award is given every year to one set of outstanding parents that provide safe, secure, loving, and healing environments for their children, and encourage trust and confidence so that life can be fully embraced. According to Program Director Brenda Quillen, all therapeutic foster parents are considered for the award, with the social workers on her staff submitting their top three recommendations along with their reasons why they represent the very best quality in providing care for a child.
Quillen then reviews their recommendations and submits three finalists for discussion, using one primary question and criterion as a guide: "Our standard is high, and are they above the standard?" She added, "With Allison and Christian LeFer, the answer was –'YES!'"
"There are two principles that have guided me in the last 38 years of being a social worker," said Quillen. "One is a comment from Margaret Mead, who said, 'Never doubt that a small group of thoughtful, committed citizens can change the world. Indeed, it is the only thing that ever has.' I truly believe that if all of us would make the difference in the life of one child, we truly change the world."
Shawn Byrne, MSW, Chief Operating Officer for the ranch's community-based service programs, which includes therapeutic foster care, stated "Yellowstone Boys and Girls Ranch is blessed to have a professional, caring staff who work with our foster families and equally blessed to have foster parents like the LeFers who provide quality care for children in need. They not only open their homes, they open their hearts."
The LeFers have two foster children – Josie, age two and a half, and Peggy Sue, a Native American teenager. Christian and Allie have worked hard to help their children create a new personal and positive history for themselves. According to Christian, "We've had to help them rewrite their family memories – not removing their culture or traditions, but replacing the painful memories from their home lives with new, happy ones."
"The LeFers embrace these kids and love them with no strings attached," said Quillen. "It's a great joy to see individuals decide to do something to make a difference."
Allison and Christian LeFer create photo albums showing the kids being held and cuddled by their parents, with pictures of birthday parties and cakes they've never had before. "They can look at their albums and see themselves happy," said Christian.
"To have Josie relax in your arms and trust you, that's huge," Allie said. "To see her giggle and laugh and let down her guard and act like a normal child, it's the most amazing feeling in the world. We see the really bad behaviors and anxieties fading away and we marvel over those behaviors she doesn't engage in anymore because she's not afraid. It's amazing!"
Christian encourages others to consider becoming a foster parent saying, "If you want to change the world, become a foster parent! You can add value to society through this child! Our generation may or may not cure cancer but we'll be 100 percent better off with each child who is raised, loved, and nurtured. Imagine taking a troubled child who is a ward of the state and turning them into a happy, problem-solving, freedom-loving person. You'll be rewarded beyond your wildest dreams."
Christian LeFer is a consultant to non-profit organizations across the U.S. To share his passion, he is in the process of developing a website to provide support to foster parenting. The website will offer a place for foster parents to share ideas and to support one another in the difficult but rewarding work of foster care. For more information, or to read the full Yellowstone Boys and Girls Ranch newsletter article, visit http://www.theleferfamily.com.
About Yellowstone Boys and Girls Ranch and Yellowstone Boys and Girls Ranch Foundation
Yellowstone Boys and Girls Ranch (http://www.ybgr.org) is a nonprofit, fully accredited, multiservice organization providing mental health treatment and support to children, youth, and their families.
Yellowstone Boys and Girls Ranch Foundation (http://www.yellowstonefoundation.org) is the financial support arm of the ranch, and fundraises for constructing new buildings, initiating new educational programs, and supplementing the childcare fund which helps provide food, clothing, lodging, and medical care for at-risk children.
For nearly 40 years, Yellowstone Boys and Girls Ranch Foundation has provided for the long-term financial security of the ranch by endowment building – helping donors and their advisors understand the income and tax advantages of a well-designed estate plan that includes charitable planned gifts. The prime motive for contributing to Yellowstone Boys and Girls Ranch Foundation is to further the ranch's work with troubled children.
Christian LeFer
http://www.theleferfamily.com
Christian (at) ChristianLeFer (dot) com
406-624-9871
"We Support The H.O.M.E. Foundation"
About The H.O.M.E. Foundation:
The Helping Others Means Everything, or The H.O.M.E. Foundation, is a not-for-profit organization dedicated to helping our Family of Charities. Frankie Verdugo, President of The HOME Foundation, wants to help as many worthy charities as possible as they struggle during these tough economic times. Frankie Verdugo helps raise funds through luxury dream home raffles, home giveaways, prizes, and high profile celebrity events in Hollywood... "Our mission is to help charities reach their fundraising goals and to bring awareness to their praiseworthy causes." Please visit our 2012 Dream Home Raffle Giveaway.
###