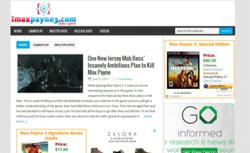 Deathmatches between a dozen players all using invincibility hacks will probably get boring fairly quickly, so it seems like this is a well thought out, and deserving punishment for cheaters
Phoenix, AZ (PRWEB) June 29, 2012
Imaxpayne3.com, the leading resource for hints, tips and news for the newly release Max Payne 3 game, can today reveal that the game's developers have come up with a novel way of dealing with cheats causing havoc in the multiplayer arena.
Unlike other multiplayer online games where cheats are simply banned from the arena altogether, it's been revealed that anyone caught using hacked saves and exploits while playing Max Payne 3 will be placed into quarantine from the population of general players.
Cheats and hackers will then be restricted to what's been termed a "cheater's pool" containing all of the game's offenders.
Dan Lim, chief editor of Imaxpayne3.com, said that it's likely that Rockstar, the developers of the game, will offer cheaters a second chance after a certain amount of time, although they will be granted just one such opportunity before being permanently banished to the cheater's pool.
"Deathmatches between a dozen players all using invincibility hacks will probably get boring fairly quickly, so it seems like this is a well thought out, and deserving punishment for cheaters," explained Dan Lim.
"We believe that banishment is probably the fairest way to deal with cheaters and so we applaud this move. Let's not forget, anyone who cheats is still a paying customer, and although they are misbehaving it really isn't fair to deny them the opportunity to play the game. In addition, it will help to accommodate anyone unfortunate enough to share a computer with someone who cheats."
In addition to this move, Imaxpayne3.com believe that Rockstar is looking into cleaning up the Max Payne 3 leaderboards as well. Dozens of the top spots on the leaderboard have been taken by cheaters, and the developers have promised to identify and remove all invalid entries, allowing only the best players of the game to shine.
Dan Lim urges gamers to play fairly, and to report anyone they suspect of using a hack as soon as they can.
About Imaxpayne3.com
Imaxpayne3.com is one of the leading online tips and strategy guides for the newly released Max Payne 3 multiplayer online game. Packed with hints, tips, games guides and information on weapons and power ups, Imaxpayne3.com has become the favorite resource for thousands of Max Payne 3 players from across the world. Check out their website at http://www.imaxpayne3.com for more information.