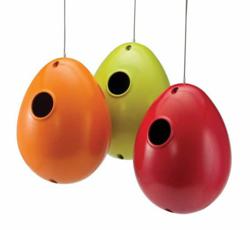 When these came in, everyone in our Call Center just loved them! They're really cute!--Duncraft Call Center Representative
Concord, NH (PRWEB) June 26, 2012
In an effort to continue producing and selling more Eco-friendly products, Duncraft has recently added bamboo bird houses to its product line. Bamboo grows 24" a day, so it's one of the most plentiful and renewable natural resources. Bamboo is an extremely sturdy product and it's also water resistant, so it makes a snug home for small birds.
Sleek and modern looking, Duncraft's egg-shaped bird homes come in a variety of colors to brighten up any backyard. And they're fully functional. Equipped with ventilation holes in the back and even a "ladder" inside below the entry hole, so fledging birds can easily exit the house. The house is opened for cleaning by removing the two screws that hold the egg-halves together. A strong, galvanized cable is used to hang the feeder and is the only part of the house that is not biodegradable.
Duncraft's Bamboo Bird House is a natural product and after four or five years will slowly begin to decompose. Once begun, the decomposition process will take about a year. The house has a 1 ½" entry hole which is suitable for small, cavity dwelling birds such as chickadees, nuthatches, titmice, and smaller woodpeckers. The house measures 6 x 8 inches high. Priced at $19.95, the Bamboo House is a very affordable way for Duncraft customers to provide snug housing for their birds while making a positive step towards creating a clean, non-toxic environment in their backyards.
Founded in 1952 and located in Concord, New Hampshire, Duncraft's objective is to bring the joy of backyard birding to wild bird lovers all across the country. Mike Dunn, owner and CEO is constantly inventing and searching for innovative ideas in bird feeding—giving bird lovers years of bird feeding enjoyment, success and satisfaction.
Duncraft
102 Fisherville Road
Concord, NH 03303
603-224-0200