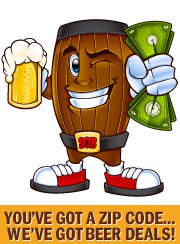 Houston, Tx (PRWEB) June 27, 2012
Americans purchased 68.3 MILLION cases of beer over the last 4th of July holiday. That's 18.3 million more cases than consumers buy for the Super Bowl. With all the backyard gatherings this summer, the founders of SaveOnBrew.com – the nation's only local beer price search engine – would like to offer tips on the best pairings for brews and barbecue.
"The grill is no longer just a home for burgers and dogs," explains SaveOnBrew's Mark Davidson. "Craft beer enthusiasts are looking for a culinary experience that matches the subtleties of their favorite drinks with whatever the grill-master throws their way – be it spice, smoke, fat, sweet, or a hint of applewood."
SaveOnBrew offers the following tips for the perfect barbecue-beer pairings this 4th of July:

Spicy Sausages: Pair with a crisp dark lager like Spaten Dunkel or a full-bodied amber lager like Shiner Bock.
Hamburgers: Pair with a hoppy pale ale like Hazed & Infused or a caramel-licked lager like Great Lakes Eliot Ness.
Steak: Pair with a malty Belgian beer like Ommegang Abbey Ale or
Pulled Pork: Pair with the smoky Schlenkerla Helles lager, Legend Brown Ale or Lagunitas IPA.
Barbecue Sauce: Pair with a balanced beer like Sam Adams Boston Lager or Sierra Nevada Pale Ale. Alaskan Smoked Porter matches well with Memphis BBQ, while Rodenbach pairs with acidic vinegar-based sauce.
Smoky Meats: Pair with Flying Dog Backyard Ale, Celebrator Doppelbock, Goose Island Pepe Nero, or – for bold sauce -- Aecht Schlenkerla Rauchbier Märzen.
Potato Salad: Pair with Eagle Rock Brewery Revolution to balance sweetness or a Taps Cream Ale.
Apple Pie: Pair with Craftsman Triple White Sage to complement the sweetness, Ephemere from Unibroue to match the fruitiness, or anything from Thomas Hardy's Ale to Gouden Carolus Grand Cru of the Emperor if the dessert is topped with vanilla ice cream.
Fruit Salad: The fruity Hell or High Watermelon Wheat from 21st Amendment Brewery has been a tremendous hit at events like Virginia's Pig-a-Palooza, where it is guzzled down as a light refreshment.
Before shopping for beer this 4th of July, Mark Davidson urges consumers to visit http://www.SaveOnBrew.com, where they can access an up-to-date list of the lowest-priced beer in their zip codes. Searches can be narrowed down by brand, style, container type or retailer. Mobile users will find it especially handy to access maps to the nearest discount beer.
"In the past, buyers were at the mercy of big box retailers," explains Davidson. "But now more small independent retailers are serving up a great selection of craft beers at surprisingly affordable prices. We make sure people know where to go. With all the ongoing sales and promotions, there is no reason to pay full-price for beer."
About SaveOnBrew.Com: Founded in 2010 to help thirsty beer drinkers across the United States find the lowest advertised prices for one of the world's most popular beverages.