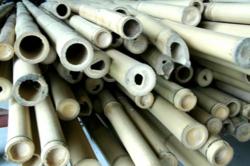 It's real-world learning for next-generation designers and smart R&D for industry leaders.
Los Angeles, CA (PRWEB) June 28, 2012
Furthering its commitment to eco-conscious education, Otis College of Art and Design partnered with German toymaker Hape to create an international think tank and integrated learning experience.
Otis faculty members and students joined Hape employees and members of the China Academy of the Arts to study the complexities of sustainable business practice and associated manufacturing challenges while developing new product designs that will move into formal production at Hape in the coming year.
The group traveled to China for a 29-day journey through the bamboo forests of Zhejiang Province, to the city of Hangzhou and the Ningbo-Zhoushan Harbor, one of the largest ports in the world. There they observed and exchanged ideas with local craftspeople, manufacturers, educators and students from distinguished design schools such as Bauhaus University, Weimar, Shenkar College of Art and Design, Israel, and KaosPilot, Denmark.
The international team participated with Hape step-by-step in research, development, idea generation, production, and testing of new products. Students learned firsthand what it takes to bring sustainable products to market.
"This kind of collaboration is invaluable for industry and academia," said Otis Toy Design Professor Drew Plakos. " It's real-world learning for next-generation designers and smart R&D for industry leaders."
Experimenting with sustainable materials and renewable resources such as bamboo and soy-based pigment, the student designers produced a number of projects from role-play toddler games and construction sets, to nested drums for a new Hape instrument line. Several of their final designs were chosen for formal development.
DESIGNING FOR SUSTAINABILITY IS DESIGNING FOR THE FUTURE
Both Otis and Hape work to develop strategies and systems that meet the needs of current generations without compromising those of future generations. The theme of sustainable design is woven into the curricula of all academic disciplines at Otis. A Minor in Sustainability is available to all undergraduate majors, providing students with a broad understanding of social, political, economic, and environmental issues, and teaching them how their work impacts society and the environment. As a leading multinational manufacturer, Hape strategically considers surface treatment, energy consumption, and packaging options to minimize environmental impact and maximize efficiency; materials, production, by-products, waste, shipping, and transport are all factors.
ABOUT OTIS COLLEGE OF ART AND DESIGN
Founded in Los Angeles in 1918, Otis College of Art and Design prepares diverse students of art and design to enrich the world through their creativity, their skill, and their vision. The College offers an interdisciplinary education for 1200 full-time students, awarding BFA degrees in Advertising, Architecture/Landscape/Interiors, Digital Media, Fashion Design, Illustration, Graphic Design, Product Design, Painting, Photography, Sculpture/New Genres, and Toy Design; and MFA degrees in Fine Arts, Graphic Design, Public Practice, and Writing. Continuing Education offers certificate programs as well as personal and professional development courses. Additional information is available at http://www.otis.edu.