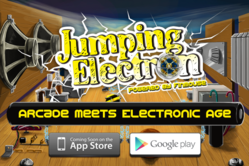 Jumping Electron has received great feedback from players and reviewers. The 55% active user base and the 5 star ratings make us feel really proud of the game. We are improving gameplay, and working on the next chapter and the iOS launch- Andrei Kovacs
Cluj-Napoca, Romania (PRWEB) June 28, 2012
Finmouse- mobile software development released its first Android game title, Jumping Electron- Electronic Age in early June. Since then, the addictive arcade game has climbed Google Play's Romanian top 100 and has also started to reach Android players in Europe and USA.
Jumping Electron is an arcade game with a classic platformer look and feel, and a gameplay fueled with vintage adrenalin.
The 60 levels and three chapters are a journey back to early Electronic Ages.
Transformers, diodes, lamps and radiators invade smartphones to become obstacles on a highway inside a Radio, Jukebox and the newest Phone Switchboard chapters.
Tilt and touchscreen tap functionality stand for an easy gameplay: skillfully guide the Jumping Electron on the highway, avoid crashing into obstacles, tunnels and gaps, reach the finish line and power-up the electronics.
Gamers can collect and spend virtual Volts on the geekiest ad-ons available in Shop: Customized Balls, Extra Energy, Level Boosters, No Ads. They can also track scores on OpenFeint or challenge friends on Facebook and Twitter.
Jumping Electron and Jumping Electron HD are free to download from Google Play, Arcade and Action Category.
Watch the official Game Trailer.
Jumping Electron is an indie game developed and published by Finmouse. It is based on the Unity 3D Game Engine with custom concept art and 3D Models.
Game development details and Press Kit can be found on the Jumping Electron Website and the official Facebook, Twitter and Google+ pages.
Finmouse is a software development and outsourcing company focused on mobile applications and games for Android, iOS and other platforms.
Canadian/Romanian entrepreneur Andrei Kovacs created Finmouse with the vision of developing mobile apps and games that combine the creativity of an indie company with a high level of professionalism and business expertise.