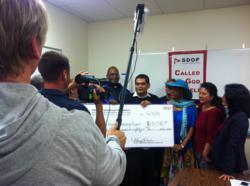 "This year, we looked for lessons in social media to see how we could not only better present our 80 grant applicants, but bring attention to the programs and services in the area we're funding." - Nancy Sasaki, Executive Director, AHF
San Diego, CA (PRWEB) June 28, 2012
Alliance Healthcare Foundation (AHF) has awarded more than $1 million to 16 San Diego and Imperial county organizations in their 2012 Mission Support Grants to advance health and wellness for the under-served, but the biggest contribution may be the exposure that comes from the use of social media.
"In the past, we've done the usual; send a letter, or make a call to announce the recipients of our grants. What's hard is bringing attention to the causes in San Diego and Imperial counties, especially when there are so many worthy efforts competing for attention," explains Nancy Sasaki, Executive Director for Alliance Healthcare Foundation. "This year, we looked for lessons in social media to see how we could not only better present our 80 grant applicants, but bring attention to the programs and services we're funding."
And what AHF learned, with the help of their agency, Ideahaus®, has been astonishing.
From the beginning of the application process we considered how to create materials for social media. Each of the applicants submitted a video on YouTube sharing their story and vision for the use of the grant. AHF created a playlist on their YouTube channel (http://www.youtube.com/playlist?list=PL0B1ABB38191EBB45) of all applicant videos, and shared them each daily on the AHF Facebook Fan Page (https://www.facebook.com/AllianceHealthcareFoundation) to help bring awareness to every effort to increase health and wellness in the community. After reviews of the applications by the staff, Board and Committees, 16 were selected for funding.
The physical award now takes the shape of a giant "prize patrol" check. Delivered in person by Nancy Sasaki and newly appointed Program Officer Sylvia Barron, the two are followed by a video crew into the organization capturing the moments before and the "thank you" afterwards. In between is an overview of the organization, a chance to meet the people who are doing the work, and some words about how they're advancing health and wellness to the under-served. In all, 16 videos will be produced.
The "prize patrol" videos are posted to a playlist on the AHF YouTube channel (http://www.youtube.com/playlist?list=PL1B1313767388C77A) and include a description of the organization and a link to a grantee profile on the Alliance Healthcare Foundation web site (http://www.alliancehealthcarefoundation.org). Each video is shared on the AHF Facebook fan page (https://www.facebook.com/AllianceHealthcareFoundation) and includes a link to the recipient's fan page (if they have one). Each video is "tweeted" from the AHF Twitter profile (https://twitter.com/#!/AllianceHF) with the #AHFGrants hashtag, as well as any "behind the scenes" pictures from the shoot.
"There were a number of big opportunities within the Mission Support Grants; the amount of money being granted, the number and scope of services applying, and the impact on the awarded organization," according to Kevin Popovic, Ideahaus Founder and Communications Director of the AHF account. "We're seeing opportunities for social services to leverage social media in place of traditional media, and to get our messages, information and stories directly to the people who are looking for them. In return, our community is confirming our message has been received with "likes" and shares, and our audience is growing with every "follow." The photos and video we produce not only tells their story, but becomes marketing materials for our funded organizations helping to highlight their work and grow their support. It's been a great return on investment, and has been incredible for community relations."
The videos will continue to be released through July 10 across the AHF social media platform. To follow the rest of this story, subscribe to the Alliance Healthcare Foundation channel (http://www.youtube.com/user/AllianceFoundation) to receive notifications as videos are released.
About Alliance Healthcare Foundation
Alliance Healthcare Foundation (AHF) works to advance health and wellness for the most vulnerable – the poor, working poor, children and homeless in San Diego & Imperial Counties. We look for ways to collaborate with nonprofit, government and community agencies to further this goal. For more information visit http://www.alliancehealthcarefoundation.org.
About Ideahaus
With studios in Pittsburgh and San Diego, Ideahaus® provides communications planning, creative development and account management to clients across the country and abroad. To learn more about Ideahaus visit http://ideahaus.com.