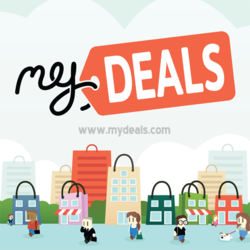 We ultimately want it to be a personal experience when you use our site. We're excited, we know exactly what we need to do to reach that point and now with Marks backing I'm sure we can do that
(PRWEB) June 28, 2012
Mindwork Labs has landed a £500,000 investment from leading UK entrepreneur Mark Pearson to develop a global deals website and marketing platform. The company has also acquired the domain MyDeals.com for an undisclosed amount from Marchex inc.
Pearson, who made a name for himself with a portfolio of deal websites in the UK, Europe and the U.S., has invested in the company to seed its newest project.
The partnership will reunite Pearson with Tom Packer - Founder and CEO of Mindwork Labs; the two worked together for several years previously on MyVoucherCodes.co.uk, the UK's number one website and mobile app for vouchers, deals, discounts and offers and will be hoping for similar success this time round with MyDeals.
The team working on MyDeals.com, which soft launched in June of 2012 in a very basic format, will build on this previous experience and take it one step further taking a more technical approach to providing the most relevant deals.
Customers have become fatigued by inboxes full of irrelevant offers.MyDeals.com will give each member more control over the deals they see and the notifications they receive, while learning which offers are most desirable to them.
Additionally, the site will detect the member's geographic location at the country level—with region and city detection to come—so the users can take advantage of offers as they travel without having to visit different websites.
The website will also maintain a highly transparent privacy policy, granting members complete control over what, if any, of their personal information is stored by the website.
Packer said, "We realised that too many websites treat everyone the same, but in reality everyone has different needs. We're building MyDeals with that in mind - Hence the "My." We ultimately want it to be a personal experience when you use our site. We're excited, we know exactly what we need to do to reach that point and now with Marks backing I'm sure we can do that."
Mindwork Labs are remaining tight lipped about their plans for the future but are insistent that the MyDeals website is just the very start and it will not just be another discount site joining the ranks of 1000's that currently exist.
Mindwork Labs have now relocated to Pearson's Tower Bridge office, as Pearson will be taking an active role in the day to day running of the company.
About Mindwork Labs
Mindwork Labs is a small team of dedicated people developing innovative websites and technology. Most of the projects they undertake involve an affiliate marketing element.
More information available at http://www.mindworklabs.com http://www.twitter.com/mindworklabs
About Mark Pearson
Pearson is the founder of Markco Media, a global web based marketing and advertising company. In 2011, Pearson received an Ernst & Young Entrepreneur of the Year award, was named one of Growing Business's Young Guns and made an appearance on Secret Millionaire.