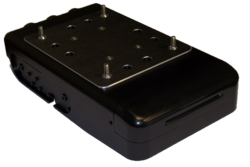 The vehicle will not start without the driver's cell phone secure inside the locker.
Sarasota, FL (PRWEB) June 29, 2012
Over two years in the making, Dock-N-Lock LLC is in the final stretch to bring their highly anticipated solution to prevent distracted driving to market. They will launch their product at the 2012 American Trucking Associations Convention at the Mandalay Bay Resort and Casino in Las Vegas October 7-10. This announcement is coming on the heels of a landmark case earlier this month in which a Massachusetts teen was convicted of vehicular homicide as a result of texting while driving, and will serve one year in prison and loss of license for 15 years.
Here's how the solution, trademarked Surge'ON, works: A non-removable chip gets placed on the driver's phone that is recognized by a locker installed near the driver seat. The driver must place the phone inside a universal locker, which then recognizes the phone. Once the locker is closed, it self-locks and the vehicle is able to start. Without the driver's phone secure in the locker, the vehicle will not start. The benefits of such a device are clear. No more texting and driving, no more hands-on calling, and no more distracted driving caused by a hand-held device. Another benefit is that the solution is also an anti-theft device. The vehicle will not start without the driver's cell phone secure inside the locker. According to Dock-N-Lock, the device works with all phone makes and models including Apple's iPhone, which has been incompatible with several other solutions offered.
Dock-N-Lock intends to release two versions of the Surge'ON solution. One that will allow Bluetooth and one that will not allow any use of the cell phone while the vehicle is being operated. Ron Pothul, CEO of Dock-N-Lock shares, "As a parent of a child who was in a car accident caused by talking on a cell phone, I know first-hand what it's like to raise a teenager in these times of texting and tweeting and everyone glued to their cell phone. We designed a version for parents, like me, who do not want their child using a cell phone while they drive. No exceptions."
Several lawsuits have also spurred companies to rethink the way they communicate with their employees that are on the road. Many Fortune 500 companies have moved to ban all employee cellphone use while driving. UPS, Corning, Chevron, DuPont, Shell and Time Warner are among them. "We are seeing more and more companies adopting a no-cell phone policy due to the liability and cell phone lawsuits attacking companies. We want to give all companies a way to enforce their own cell phone policy and prevent accidents caused by negligent cell phone use." adds Jeff Pothul, CIO of Dock-N-Lock. Currently 39 states ban texting and driving while 10 states prohibit all drivers from using a hand-held device. Ironically, in Florida where the Dock-N-Lock headquarters resides, there is no ban on texting or talking while driving.
About Dock-N-Lock LLC
Founded in 2011, Dock-N-Lock LLC promotes awareness of distracted driving due to cell phone use and provides comprehensive solutions that prevent accidents and ultimately save lives. Their patented technology incorporated in the Surge'ON solutions for fleets and families takes cell phones out of drivers' hands and gets their hands back on the wheel. For more information please visit http://www.dock-n-lock.com.