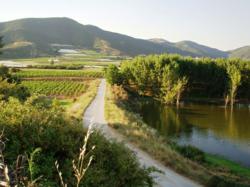 Environmental Sciences @ ScienceAlerts.com
Bad Honnef, Germany (PRWEB) July 04, 2012
ScienceAlerts.com is an Environmental Sciences Social Network to discover and share scholarly content in in the basic and applied sciences of agriculture, biology, environment, forestry, geography and health. Up to now, 19,235 members have signed up and have actively contributed 926,769 articles to the site. The latest additions to the site are aggregated on the frontpage as well as in an ScienceAlerts RSS Feed. The new Environmental Sciences category currently features 27,323 stories exclusively selected from 154 scientific biology publishing sources.
ScienceAlerts.com's Environmental Sciences Category covers the external physical conditions affecting growth, development, and survival of organisms, and their management. It currently contains 27,323 stories selected from 154 scholarly environment sciences journals. This category also provides an Environmental Sciences RSS feed which is one of the best and most popular ways of staying up to date with the latest news in this science discipline. One of the latest articles compares the performance of anaerobic reactors for treatment of sago industry wastewater. Sago effluents from cassava starch production pose a serious threat to the environment and quality of life in rural areas of India. According the the article's authors, anaerobic digestion has proved to be an effective method of treating the sago industry wastewater with simultaneous production of energy in the form of methane. Another newly included article presents a case study on conservation of socioculturally important local crop biodiversity in the Oromia region of Ethiopia. The authors surveyed diversity in a range of local crops in the Lume and Gimbichu districts of Ethiopia, combined with the knowledge of local people regarding crop uses, socio-economic importance, conservation, management and existing threats. Introduction of improved wheat varieties, pest infestation, shortage of land, low yield performance and climate variability were identified as the principal factors contributing to the loss or decline of crop biodiversity in this region of Ethiopia. The category also features an article which analyzes the relationship between a firm's greenhouse gas (GHG) emissions and its profitability in Japanese manufacturing. The authors conclude that although ISO 141 adoption is generally considered to be an indicator of a firm's stance on environmental proactiveness, it does not provide a sufficient incentive to reduce emissions.
ScienceAlerts.com's review process is partly automated and partly manual to rigorously ensure that only relevant content is featured on the site. Since new science content is discovered in real-time, the delay between original publication and appearance at ScienceAlerts.com is usually only minutes. ScienceAlerts.com includes a search feature to retrieve specific titles or keywords from its' large database. In addition, it suggests up to ten related articles for each article selected. The site also maintains the new Twitter account @Science_Alerts.