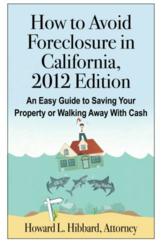 Burlingame, CA (PRWEB) July 06, 2012
Real estate Attorney Howard L. Hibbard, has announced the release of his new book titled, "How to Avoid Foreclosure in California, 2012 Edition: An Easy Guide to Saving Your Property and Walking Away With Cash," published by Cheka Press.
Despite the overwhelming amount of information available today for distressed property owners trying to avoid foreclosure, most of it is lengthy, hard to understand, legalese. Mr. Hibbard takes this to heart and condenses his information into an easy-to-follow 30 page book, that gives answers to the most pertinent questions on mortgage default, loan modification and tax consequences.
He starts out by introducing a Distressed Property Owners' Options Chart that's chalk-full of valuable information broken down into eight different property types and the various options available for avoiding foreclosure. He then goes a step further by telling distressed property owners how they can walk away from their property with money in their pocket.
Mr. Hibbard also covers the latest 2012 California legislation and its impact on distressed property owners. In easy to understand terms, he explains Senate Bill 94 that prohibits advanced fees on loan modification, as well as Senate Bills 931 and 458 that forgive debt after short sales. He also reminds us of earlier legislation on mortgage debt relief that is due to expire at the end of 2012. In addition, he explains how to avoid falling victim to lawsuits, as well as scams to collect money.
You can purchase "How to Avoid Foreclosure in California, 2012 Edition," as a paperback or eBook through Amazon.com and Smashwords.com.
About the Author
Howard L. Hibbard is owner and principal attorney of the Law Office of Howard L. Hibbard, founded in 1979. With over 30 years experience as a trial attorney in both state and federal courts, his primary focus has been on commercial and residential real estate matters, including construction defect lawsuits. Mr. Hibbard is also author of The Legal Pitfalls of Short Sales and Foreclosures, and teaches seminars on how to avoid foreclosure through loan modification programs, and other important information on buying and selling distressed properties.